Paralympics 2012: Charlie's Paralympic Diary - Day 10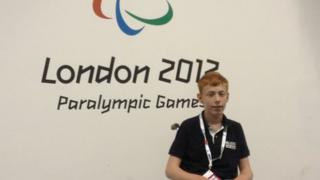 Day 10 has been by far my favourite day of the Games - this is because I was able to visit the Olympic Park and soak up some of the amazing Paralympic atmosphere for myself!
In fact I am typing this blog from the BBC office in the IBC (International Broadcast Centre) whilst also watching ParalympicsGB unfortunately lose against Japan in the wheelchair rugby.
I have a special media pass which allows me in here with all the other journalists as well as into the Olympic Park!
When I arrived with my dad I just couldn't believe the size of the Park and amount of people walking around and in the crowds. It was amazing to walk round and see the venues.
While I was the Park I went to the BBC 'blue box' studios as I was invited to go on BBC Radio 5 Live to do a live interview on what I think about the Paralympic legacy. Baronness Tanni Grey-Thompson was on the same show as me, which made it even better!
Some of the other guests on Shelagh Fogarty's programme were Mark Colbourne and Crystal Lane from the para-cycling team.
After their interview I had the opportunity to have my photograph taken with them and hold ParalympicsGB's first medal of the Games, which was won by Mark in the velodrome over a week ago.
Another amazing part of my trip to the Olympic Park was my interview with Tanni Grey-Thompson.
After she finished beiing on the radio I got the chance to ask Tanni a few questions on her incredibly successful career and what she thinks of these Games here in London.
Doing this was a great experience and one that will stay with me forever.
Now briefly back to the sport and ParalympicsGB have now won 114 medals, which means they have achieved the Charlie target and there is still the possibility of more to come in the last 24 hours - I will certainly be watching to see them!