Paralympics 2012: Charlie's Paralympic Diary - Day 9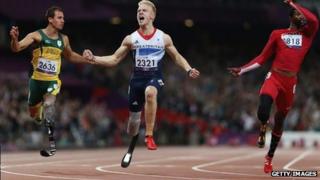 Day nine and ParalympicsGB have already smashed the target of 103 medals. We are now up to 108 medals - fantastic!
We will certainly also smash my target of 110, and we are even nearing my predicted number of 123 medals based on averages per day!
Jonnie Peacock proved he's one of the best around with a remarkable win in the 100m final, crossing the finish line in the astounding Paralympic record time of 10.90secs.
It just goes to show just how far the Paralympic Games have come since they started, and I would say they are now equally as successful as the Olympics.
Meanwhile, the Weirwolf once again stole the show in the 800m with a record time of 1min 37secs, to bring home his third gold of these Games. He is now my inspiration.
He appears to find his races incredibly easy, planning each stage carefully. I also enjoy watching him go all out on the back straights. I will be very grateful if I can get anywhere near his level.
I think these Games should not only raise the profile of disability sport, but the attitude to disabilities in general.
In my opinion, people should not presume that someone with an impairment is unable to achieve something, as this is a scenario I often come across - not just in sport - but in my school life too.
However, when you do achieve something that people presumed you wouldn't be able to, it makes whatever you have done all the more worth it.
Following on from these Games, I think that in every school they should make disability awareness a compulsory part of the curriculum.
I also feel that the Games have really presented disabled people in a good light - thanks to the amazing athletes competing in the different events. If it wasn't for them, there would be no Paralympics to enjoy!
Their performances and attitude show that disabled people are also determined to achieve in life, not just able-bodied people.
I don't know whether anyone else has noticed this, but when watching an event, you find yourself forgetting that these incredible athletes have a disability at all.
Even in the wheelchair races my mum has said: "You forget that they're disabled because of how fast they're going!"
I'm not suggesting that all disabled people are determined and hard working, or would wish to compete in the Paralympics, because there are those - just like with able-bodied people - that are lazy! Or, who simply don't have a great interest in sport.
But these Games have clearly helped the public realise that people with impairments definitely have the ability to go very far in life.