Paralympics 2012: Charlie's Paralympic Diary - Day 8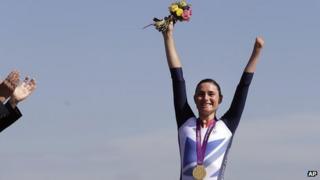 The Brits now have 92 medals, up from the 73 they had on Tuesday. They have smashed my target of 11 per day, with a further 19 medals won on Wednesday.
I'm now convinced we can smash the 103 medals target set by UK Sport and we should smash my target of 110 and could possibly hit the 123 medal total I talked about. Come on ParalympicsGB, you can do it!
Sarah Storey has won her third gold medal of the Games in the C5 individual time trial. The 33-year-old completed her race in an impressive time of 22:40.66, beating her opponents by some distance.
Oscar Pistorius has again sparked controversy. His claims to the IPC about the length of prosthetic blades used by other athletes were rejected on Wednesday.
He claimed that certain athletes using prosthetic limbs were changing the length of their blades in-between qualifying heats and the final, which is against the rules.
It's not been the most impressive Paralympic campaign so far for the South African, although he was in good form as South Africa smashed the world record in 4x100m relay. Well done.
GB performed well in the pool today, with Oliver Hynd bagging gold in the 200m with an impressive time of 2:24.63, creating a new European record.
It was also very interesting hearing how swimmers Liz Johnson and Charlotte Hensaw are best friends out of the pool... but in the water they're bitter rivals.
While competing in these Games they are sharing an apartment, which I didn't expect after hearing they were rivals. It must be a very bittersweet relationship! On Wednesday, it was Charlotte who came out on top in the duel, achieving silver, while Elizabeth finished in the bronze spot.
Looking ahead, I can't wait to see David Weir go for his third gold of the Games. Come on big man you can do it!
ParalympicsGB have made good progress in the men's wheelchair basketball with a great win against Turkey. The game was greatly entertaining, with a high full time score of 70- 75 in GB's favour, meaning they have progressed through to the semi finals.
And we managed a very creditible silver today in the tennis quad doubles. A great effort by the pairing of Peter Norfolk and Andy Lapthorne.