Paralympics 2012: Charlie's Paralympic diary - Day 7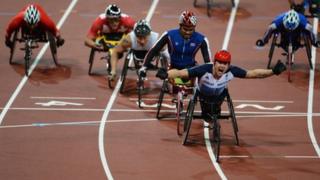 Tuesday was another amazing day at the games. ParalympicGB's medal count now stands at 79 after winning 16 more medals on day six. The Charlie target of 110 medals is looking good!
After winning 79 medals by day seven of the competition, we have averaged just over 11 medals per day. If we keep that up for the remaining four days of competition we would end with 123 medals!
For me, Tuesday's highlight at the Paralympics has to be watching David Weir, as he was successful again in his pursuit for gold in the 1500m wheelchair racing. Once again, Weir planned his race to perfection.
Ellie Simmonds was again in action, taking part in the 50m freestyle. Though she missed out on another gold, she still managed a great bronze medal position to give her three medals in total for the games. Well done!
ParalympicsGB had more success in the pool today in the 100m women's backstroke, with Heather Frederickson winning a fantastic gold medal.
Her story is a remarkable one. She was an able-bodied swimmer until she was involved in an accident - doctors told her she would never swim again, but here she is winning gold for GB.
In the women's 4x100m relay, GB were incredibly unlucky not to achieve better than a bronze after a mix-up in the baton changeover. It was really frustrating that they couldn't pass the baton at the crucial point, but at least they still reached a medal position.
The women's GB basketball team suffered another loss this time to Germany in a close fought contest running out 54-44 losers.
I am particularly keen to watch the games on Wednesday as the wheelchair rugby starts, and it is my favourite sport. If you've never watched it before, don't miss it - it is incredible!