Paralympics 2012: Charlie's Paralympic diary - Day 6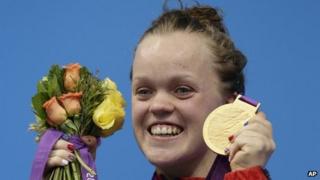 Another record breaking day. I don't know what I will watch when it all ends!
ParalympicsGB now have 63 medals and counting. I have set them my own target to hit: forget 103, the Charlie target is 110 medals! Come on guys, you can do it!
A big highlight of today's games was Eleanor Simmonds in the 200m SM6 individual medley. She started towards the back of the pack in fifth place but fantastically managed to work her way into the gold medal spot for GB, breaking a world record whilst doing so.
It's amazing to think she has made such a great achievement at the age of just 17. Her future looks very bright. If she went to the next four Paralympics she would only be 33 years old! We should also of course not overlook Natalie Jones who in the same race won a bronze for GB.
For me, David Weir in the 5,000m wheelchair race was sensational. What an amazing finish to a hotly contended race.
When he crossed the line, hearing the commentator say "one day this could be you" made me want to push myself even harder so that I could one day achieve the same greatness as these amazing athletes. He seemed to plan his race to perfection.
After last night's controversial comments from Oscar Pistorius, he has now officially apologised. However at the end of his apology he added that there is still an issue here.
But I think the only issue here was his attitude to losing. He has really let himself down, in my opinion.
Being an athlete at any level is not only about getting your physique right, but also your attitude - for any situation you may find yourself in - whether that may be winning or losing.
As previously mentioned, I have met Paul Shulte, the USA wheelchair basketball captain, so I was interested to see him perform tonight against Spain. USA are the reigning world champions so I will also be watching their progress closely throughout the competition.
Watching the Paralympics in general has made me more interested in doing well in my own tennis lessons, and I hope it has inspired and motivated many young athletes just like me.