Paralympics 2012: Charlie's Paralympic diary - Day 5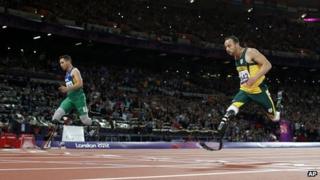 After two-gun salute Saturday, now it's time for Super Sunday! Superhuman - real people making the headlines!
One man who's really in the headlines across the world is Oscar Pistorius - even though he won silver, not gold, in the T44 200m final.
Watching him run the 200m was amazing but even more amazing was watching Alan Oliveira run the last 100m to come back and beat him.
I listened to Oscar's interview after the race and from his views he is clearly not happy. He was saying the length of the blades of Oliveira are too long but surely that should be discussed before the race and not 30 seconds after you have been beaten?
That has slightly put me off Oscar Pistorius, as I think you have be gracious in defeat as well as victory.
GB are now in second place in the medal table with 54 medals. I really feel we will smash our target of 103 medals!
Highlights for me on Sunday were:
The Games are throwing up many stories and dreams as well as disappointments.
I feel really proud to see GB athletes on the podium collecting their medals. It really makes me want to train to achieve their levels.
I am now really looking forward to watching the wheelchair rugby. I will be glued to coverage of these Games.