Paralympics 2012: Charlie's Paralympic diary - Day 4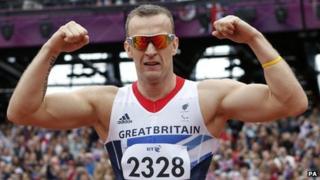 Saturday should be known as the two-gun salute!
Richard Whitehead smashing the 200m world record was a sight for sore eyes. The only athlete starting from a standing start and slipping at the start. Amazing to see.
GB are now up to 36 medals. I have a great feeling we will smash the 103 medal target.
Jason Smyth met everyone's expectations when he again smashed his own world record to win gold in the 100m sprint in 10.46 seconds. What a fantastic Games for the Irishman.
It has been a great day for smashing records with Ellie Simmonds winning in the 400m freestyle in the pool, completing her race in a world record time of 5:19.17. What a fantastic achievement.
It was also a great day in the velodrome with the Storey household bringing home two gold medals for GB. Dinner in the Storey household will taste sweeter tonight!
Seeing Samuel Ingram at breaking point after winning silver and in his mind losing gold was hard to watch for me. It shows the amount of effort, determination and emotion that goes into each sport. I really felt for him.
I also found it extraordinary to watch Libby Clegg run the 100m so well with a guide. That just proves that the only disability is your attitude. People with no impairments that complain about their bodies should think about these athletes and realise how lucky they are.
Good to see the men's basketball get their first win today. I hope that kickstarts their campaign.
I'm looking forward to more GB medals tomorrow!