Paralympics 2012: Charlie's Paralympic diary - Day 3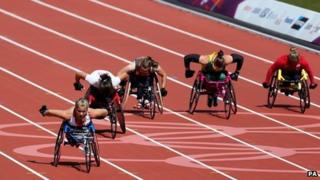 Day three and the games are in full swing.
Today I was interviewed by my local newspaper, The Hinckley Times! They were interested to hear about my daily blogs here on BBC News School Report.
As I mentioned previously, Mel Nichols was racing in the 100m wheelchair sprint. However it was not to be this time, as she failed to qualify for the finals. A great effort, as she has only been training for two years. I hope to see her again in Rio.
In contrast, Hannah Cockcroft, who has the same disability as me (cerebral palsy), was very much successful, as she smashed the 100m in the T34 category. She also achieved a new Paralympic record of 18.9 seconds. Well done, Hannah. You did amazing!
In contrast to both of the stories above today, Jody Cundy of GB, who was competing in the C4-5 1KM time trial, experienced emotions of despair, when his wheel slipped out of the starting blocks and he called for a restart.
Unfortunately the officials judged it as a rider error, rather than a technical fault. The same incident occurred earlier in the day, and a restart was allowed on that occasion, unlike for Jody.
He has the opportunity to make it up in the 4Km pursuit on Saturday, so best of luck for that, show them what you can do!
Seeing Jason Smyth of the Republic of Ireland break a new world record in the 100m sprint heat was an inspiration to watch. He did not look like he had any impairments, as he set the record.
To think he is only a second behind Usain Bolt shows that there is not much difference at all in the quality between the Olympics and the Paralympics. I hope the world is watching. Jason Smyth completed his sprint in a time of 10.54 secs. I will be watching his final closely, to see if he can break his own world record.
I am very much looking forward to the murderball (aka wheelchair rugby). Hopefully GB can succeed in this sport.
The Games have really made me feel like I want to play even more sport. If I ever feel like giving up in sport I will think how hard all the athletes have had to train to get to where they are now and how rewarding it feels to succeed.
I'm looking forward to a weekend of amazing sport, amazing achievements and amazing effort. Keep it up guys!