Paralympics 2012: Charlie's Paralympic diary - Day 2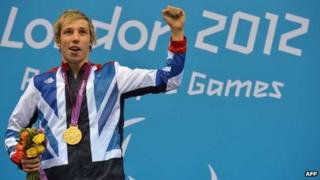 What a great start ParalympicsGB made on their first day of competition!
The team won seven medals, with cyclist Sarah Storey cruising to victory in the individual pursuit event at the Velodrome.
I think the swimming is especially fascinating, as even the most severely impaired athletes can still achieve a great amount of success.
In the pool, Jonathan Fox took gold in the 100m backstroke and an inspiration to all of us teenagers is Hannah Russell, who at 16 won silver in the 400m freestyle.
It's a bit of a disappointment that the women's wheelchair basketball lost their first game against the Netherlands, but there are still more games left for them to achieve in.
Wheelchair racer Melissa Nichols, who trains at Warwick University where I have started training, is competing in the 100m wheelchair sprint today and I want to wish her all the best to bring home a medal.
She also races on 6 September in the 200m too, so watch out for her result.
Attitude
The target for ParalympicsGB is 103 medals, which is one better than they got at the last Games in 2008.
That target is looking very likely, if GB can maintain the momentum they found on the first day of competition. However, I think that GB should be aiming to beat whatever their opponents achieve.
My dad and I were talking about the athletes who have been unsuccessful in adding to the medal count. I feel sorry for the athletes who were unsuccessful in their bid for medals, who have most probably trained as hard as the winners, but then walk away from their events empty handed but with their heads held high
I watched the GB men's wheelchair basketball team play Germany and saw GB fight really hard but come away with nothing after losing to Germany in extra-time. I say well done guys anyway.
So far, the Games have made me realise that with the right attitude you can become successful, no matter what problems you may have or what life throws at you.