Paralympics 2012: Charlie's Paralympic diary - Day 1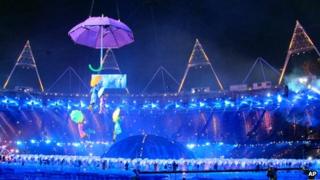 It has been an inspirational start to the 2012 Paralympic Games. I'm now really excited for the Games to begin after watching the opening ceremony.
For me, Martine Wright, who lost her legs in the London 7/7 bombings and now competes in the seated volleyball team, has been the most interesting and amazing story so far.
Her attitude to life and her disability is incredible. She sees that her disability has enabled her to achieve rather than disabled her life.
She is one of those people who will go far no matter what life throws at her.
It was also interesting to learn the Paralympics were born at Stoke Mandeville as I have competed there twice myself.
The opening ceremony symbolised equality and fairness for everyone no matter what the impairment or difficulties.
Changing attitudes
I did notice a real variation between the countries, not only in the number of competitors but also in the quality of the wheelchairs they are using. Everyone should have the same opportunities in equipment too.
I really hope that the games makes the general public more aware of disabilities and changes their attitudes and perceptions towards disabled people.
For me, the opening ceremony was particularly enjoyable as I got to see all of the flags and national dress - geography is of particular interest to me!
Tonight has firmly whet my appetite for the coming 11 days of fierce competition by athletes that will inspire more than a generation.