Paralympics 2012: Games return to their spiritual home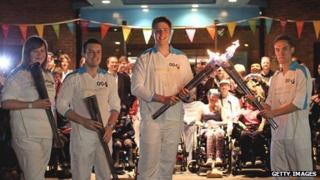 On 28 August 2012, the London Paralympic Games returned home to Stoke Mandeville.
The stadium was buzzing and the atmosphere was electric as the Paralympic flame was finally lit before embarking on its 24-hour journey to the Olympic Stadium.
The Paralympics started because of one man - Dr Ludwig Guttmann, who pioneered the use of sport to help injured World War II soldiers being treated at the Stoke Mandeville Hospital.
On 28 July 1948, Dr Guttmann turned his dream into a reality when the first Stoke Mandeville Games was held on the same day as the opening day of the Olympics in London.
Initially, Dr Guttmann's dream of his Games becoming an international event as big as the Olympics seemed very unlikely, but today we are witnessing the build up to the biggest Paralympic Games yet.
Beaconsfield High School reporters were among the 2,500 spectators waving flags and ribbons to witness the four national flames united at Stoke Mandeville Stadium, creating the Paralympic flame.
There were speeches from those at the forefront of the Paralympic movement, including chairman of the Iinternational Paralympic Committee, Sir Philip Craven, a video recording from Prince Harry and Lord Coe, as well as a special visit from Dr Guttmann's daughter Eva Loeffler.
Celebrations
Claire Guy, a doctor at the Spinal Injury Centre told us: "Sport has always been a major part of their rehab and so having the Paralympics in London really shows what the patients can achieve."
The main theme of London 2012 is to "inspire a generation" and with the resounding success of the Olympic Games just a couple of weeks ago, many believe that what seemed like a dream is becoming a reality.
Mick Dillon, a Paralympic ambassador and chief executive of The Disability Resource Centre, told us that he is encouraged by the number of able-bodied people and their children wanting to know his story.
"We all need to get involved, together, building on equality for all, which includes celebrating equal opportunity and diversity," he said.
From the high spirits of the vast crowds to the inspirational stories told by the athletes, the atmosphere at Stoke Mandeville was truly incredible.
We were overwhelmed by the enthusiasm and excitement of the event and truly believe the Paralympic movement can only go from strength to strength.