Paralympics 2012: Goalball brothers strive for success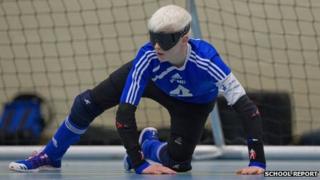 At just 15 years old, David Knott, is competing in the 2012 Paralympic Games as part of the ParalympicsGB goalball squad.
When asked about his nerves ahead of the Games, David - who is also a School Reporter at Thornden School in Hampshire - said "for me, it's more anxious than nervous, it's more wanting to be there, to get the first game under our belts and soak up the atmosphere.
"I still really can't believe how fast I've made it into the squad and into the Paralympics. Two-and-a-half years ago I hadn't even heard of the sport! It feels amazing.
"A year ago I didn't expect to be in the team, I even bought a ticket to watch my brother as a spectator. When I found out the news that I was in the final squad I was so excited!"
David's older brother Adam, 17, is also a member of the ParalympicsGB goalball squad.
When asked about how he feels about having his little brother in the team, Adam admitted "there is definitely brother rivalry, he always wants to be better than me and I always want to be better than him.
"But it makes us both be better and adds to competiveness. It pains me to say it but it is good to have David there, just to help us train and have someone else in the family as part of GB."
Since the squad has been confirmed, David feels as though "everything's gone a bit crazy! I've had media interviews, photoshoots and everyone wants to know my story."
Despite all the craziness, the family still provide grounding and support.
"The training venue is near our house and as all the squad is located all over Britain, everyone comes and stays round our place to save funds," he added.
"It's not like the Olympic village, we all bed down on the floor a couple of feet away from each other but from this we've created some really strong team bonds."
David describes the qualities of a good goalball player "you have to use pace, power and precision. You have to be good at shooting the ball really fast, you have to have a really quick reaction time and you have to not be afraid of getting hurt.
"The hardest thing about goalball is trying to stay concentrated throughout the whole game as you get really tired after playing for a long time.
"My favourite thing about goalball is the physicality of the game as you get hit a lot. You have to get used to stopping the ball and throwing it at other people."