Olympic diving: Tom Daley dives into School Report Q&A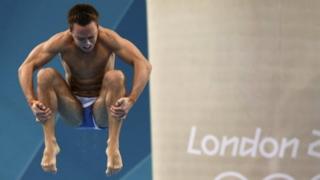 At 18 years old, diving star Tom Daley already has a remarkable list of achievements to his name, with gold medals at the World Championships and Commonwealth Games - and now he has an Olympic bronze medal to add to his trophy cabinet.
In the build-up to the Games, School Reporters from Hamble College in Hampshire caught up with the diving sensation.
-----------------------------------------------------------------------------
If you were an animal, what would you be and why?
A monkey, because they can swing through trees!
If you could have an Olympic or Paralympic ticket for 2012, which event would it be for and why?
To watch the men's 100m final because it is the most prestigious event!
Who has been the most important person to get you where you are today?
My dad. He used to take me to all of my training sessions and competitions and he will be dearly missed.
What sacrifices have your friends and family had to make for your sporting career?
We can't go away on family holidays and I can't see my friends as often as I would like to.
What does the 2012 Olympics being in London mean to you?
Everything. It is going to be the best sporting event that the world has ever seen!
What would you like to have achieved in 10 years' time?
I would like to have won every major title that there is to win... only Olympic gold left!
Do you have to have a special diet for your training? If so, what do you miss most when you're on it?
I have to be very sensible to make sure I stay in shape but I do love ice cream! Especially Fabs!
What has been the best - and the worst - moments of your sporting career so far?
My best moment in my sporting career so far was when I won the World Championships in Rome aged 15, but the worst would be when I tore my tricep at the European Champs in 2010.
What is your favourite movie and why?
Jaws, I just seem to be fascinated about sharks in the films.
What is your worst habit?
I bite my nails when I'm bored.