London 2012: Jade Jones Q&A with School Report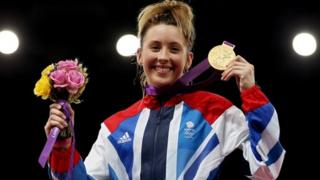 Jade Jones could not stop grinning late on Thursday night after winning Britain's first ever Olympic taekwondo gold medal.
The 19-year-old Welsh star, nicknamed 'the Headhunter', stunned one of China's top fighters to take the women's -57kg title and become GB's youngest Olympic champion.
It caps a sizzling two years. In 2010 Jade became GB's first ever Youth Olympic gold medallist in Singapore and a bronze soon followed in her senior competition debut at the European Championships.
In the build-up to the London Games, School Reporters from St John Wall Catholic School in Handsworth, Birmingham spoke to Jade about her dreams and why she got into taekwondo.
-----------------------------------------------------------------------------------------
What inspired you to start playing your sport?
My granddad got me into it when I was eight to keep me off the streets and to learn how to defend myself. I just fell in love with all the flashy kicks, spins and knockouts.
Where do you see yourself in 10 years' time?
I hope to turn my Youth Olympic gold into a senior one and become a multiple world champion. Also when I retire I would like to inspire young athletes, just like Dame Kelly Holmes does, to help them make their sporting dreams happen.
What is your biggest ambition in your sport?
My main ambition is to become the first Team GB taekwondo athlete to win gold at the London 2012 Games. Then I want to help get taekwondo into the Commonwealth Games so that I can win gold for Wales.
What was your first big achievement in your sport?
Getting silver at the Junior World Championships in Mexico. I came so close to gold, losing narrowly to a Korean athlete who was very strong. Korea are known as the best in the sport which is no surprise as the sport originated from there.
Who is your role model and why?
I have two. Paul Green, my coach, who is just amazing and has the best attitude and Dame Kelly Holmes, because she was so determined to achieve her dream and battled through many things. She's a true inspiration to me.
What kind of sacrifices have you had to make to get to where you are?
I love taekwondo, so don't see anything as a big sacrifice, but moving to Manchester to train full time was hard at first as I am very close to my family and friends.
What is your best memory from your time playing your sport?
It has to be winning the GB's first ever gold medal at the Youth Olympics in Singapore. It was an unbelievable experience which I will never forget.
What do you do to unwind and relax away from sport?
I like chilling with family and friends as I don't get to see them often and also listening to music.
Q: How many friends do you have on Facebook?
About 1,700!
**** This figure is likely to have exploded in recent hours!
Q: Who are your best friends and/or main rivals in your sport?
Jennifer Agren from Sweden is a good friend and rival! We are still juniors but moving up the ranks in the seniors.
She beat me in the semi final the senior Europeans and I beat her at the Youth Olympics but we both still hug and wish each other good luck when we meet, which is nice because we will most definitely fight each other many times in the future.