England riots: School Reporters look back at the riots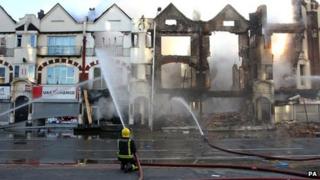 Amid all the excitement surrounding the Olympics, Monday marks the first anniversary of last year's riots. Violence started in Tottenham, London, before spreading to other English towns and cities.
School Reporters have been looking back at the riots, and investigating the impact on the their local communities.
Skinners' Academy
School Reporters Mercy and Conrad from Skinners' Academy in Hackney were interviewed on the BBC News Channel about their experience of taking part in the Olympic opening ceremony.
Mercy spoke about her surprise that children from Hackney would be invited to take part after being so close to where the riots took place last year.
Headliners with Central Foundations Girls School
Reporters at Headliners teamed up with Central Foundations Girls' School in east London to investigate whether the London riots of 2011 had a negative impact on the capital's reputation in the run-up to the 2012 Olympic Games.
Saint John Wall Catholic School
Students from Saint John Wall Catholic School were featured on the BBC Asian Network as they prepared their report about the riots in Birmingham on News Day.
The owner of a jewellery shop located in the area affected by the riots told School Reporters that he felt "angry, disappointed that certain members of our community can behave like that". He explained that during the riots there was nothing he could do to protect his shop.
This was echoed by Ch Insp Sean Russell of the West Midlands Police who said he felt "absolutely shocked and ashamed".
He added that although community leaders believed the rioters were children and teenagers the average age of those arrested was 23. He also issued a warning to those involved, saying: "we are coming to get you."