School Report mentors: New to News?
8 October 2012

From the section

Home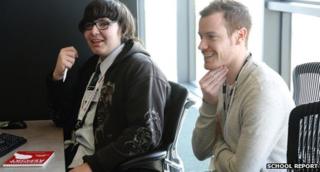 THIS PAGE IS FOR BBC STAFF WITH AN INTEREST IN BECOMING A MENTOR FOR BBC NEWS SCHOOL REPORT.
BBC mentors come from across the organisation and many of those who take part don't work in newsrooms.
Members of BBC staff from FM&T, Finance and Learning are all great mentors for the project, so if you work in a non-news role don't be afraid of taking part!
Just by working at the BBC you probably know more than you think and we have lots of resources here on the School Report website to help.
A good place to start is our teacher resources, which include a series of lesson plans as well as a pick and mix resources section.
The idea of all our resources is to help students and teachers get to grips with the essentials of news and journalism, so they make a great refresher or basic guide for anyone who wants some guidance.
The Finding News section will be particularly useful for establishing some of the basics.
Every lesson plan or pick and mix page contains a masterclass from a BBC journalist as well as a video from BBC newsreader Huw Edwards - these make for great explainers of some of the fundamental concepts and are full of practical tips too.
You should also have a look at our Practical Tips page for advice on some of the nuts and bolts of making reports.
This can be particularly useful resource if you are new to TV or radio production and your school is keen to make audio or video reports.
There is also a wealth of more in-depth material of the BBC College of Journalism website which is well worth checking out and pointing teachers towards.