School Report mentors: Top tips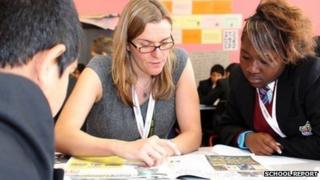 THIS PAGE IS FOR BBC STAFF WITH AN INTEREST IN BECOMING A MENTOR FOR BBC NEWS SCHOOL REPORT
For full details, visit our BBC mentors page..
As a former physics teacher and BBC radio producer, I like to think I have a foot in both camps when it comes to running School Report in the classroom.
I worked for School Report for many years - here are some of my top tips for mentors.
DO'S AND DON'TS
Don't be afraid! Teachers and pupils love visitors, and coming from the BBC they'll be very interested to hear what you have to say.
Try to make contact with your teacher as soon as possible. Teachers can be difficult to get hold of sometimes, so allow plenty of planning time!
Talk to the teacher and discuss expectations and logistics. How many children are involved? What facilities does the school have? Have they done the project before?
Do fill out a risk assessment ahead of each time you work with young people. It's an important part of protecting everyone involved and preventing problems before they occur!
Be realistic about how much time you will be able to give. Avoid misunderstandings by explaining early on what level of commitment you are able to give.
Don't walk in like you own the place! Respect teacher's classrooms and the staffroom.
Let the teachers deal with discipline and don't be afraid to ask the teacher for help or say that you can't continue if pupils aren't behaving.
Also, check the conventions in the school. Is it a school or college? What do pupils call the teachers? Will you be referred to as "Sir" or "Miss"? Or "Mr/Mrs so-and-so"?
Any goodies you can take eg BBC pens, postcards etc will always be appreciated. Also be armed with some of your best celebrity anecdotes or career highlights/disasters - you're bound to be asked about them!
It's well worth making friends with certain people who might prove useful to you eg the secretary, IT teacher and dinner ladies (especially if you need the hall for filming and they are going to want to set up for lunch in there!).
Book 10 March 2016 off rota if you can - this is School Report's News Day, when every school involved will be making their news for a 1400 GMT deadline!
Let the School Report team know about your plans and flag up any particularly good stories - we might be able to help.
Make sure you have the correct address and name of person you're meeting - many schools are on split sites.
IF YOU ARE GIVING AN ASSEMBLY/LESSON
Check exactly what they want you to do. How long is the assembly/lesson? How many pupils? What time will you need to be there? What equipment do they have eg DVD player, laptop, projector etc.
Is there any other materials you need to bring or have available from the school? Eg newspapers, flipchart and pens etc.
Try to show them as much as possible and use some material from BBC News School Report - we can help provide this. But also tell them about your job and show them examples. And this is the time to bring out your best celeb tales!
Plan the assembly/lesson like you would a speech or programme. Keep it varied and have a structure. We can help with suggestions for this.
Make sure that you have plenty of exercises for the children to do. If you are helping with the lesson provided by us you can use those resources but otherwise you will need to come in with some other ideas - we have a list of suggestions.
If you are going to be giving the assembly and also going to lessons then don't blow all your material in one go - give them the teasers so they get excited about the day.
Don't be put off if there is a bit of talking - often assemblies are used by teachers to complete registers and in a big group there is often a bit of talking. If it gets too out of hand be prepared to stop and let the teachers deal with it.
EXAMPLE OF A LESSON PLAN
10 mins - Introduction: Tell them about yourself and your job - play some material
15 mins - What is news? Ask pupils - what news have they heard of? In the days newspapers get them to find the top three stories of the day - what are they? Do they think they are interesting - what would be in their news? Show Newsround's top stories. Why do we have the news?
10 mins - Making news: Pupils come up with some news stories in pairs that they think are interesting from the news or from their school. Keep asking them about what the story is. Could make up stories about themselves if they are stuck?
10 mins - Writing news: Make them write the story in their own words - using their own language - no more that 30 words/10 seconds - stress that they will have to read them out. If they are quick at doing this you could ask one of them to find a picture to illustrate it
Final 15 minutes - Broadcasting news: Get the groups to read out their news - and hold up the pictures. Probably this will complete it but you could finish with a quiz