London 2012: Jamaican Olympic team meet Holyhead pupils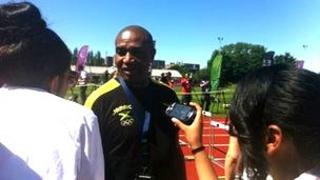 School Reporters from Holyhead School watched the Jamaican Olympic team train in Birmingham sunshine ahead of London 2012.
The student reporters interviewed team manager Ludlow Watts, hurdler Hansyl Parchment, long jumper Damar Forbes as well as Riker Hylton and Errol Knowland, two members of the 4x400m relay squad.
The pupils increased their reporting skills by recording athletes answers on mobile phones and taking pictures.
They told their BBC School Report mentor Rachael Smith what they got up to.
School Reporter Jessica, 14, said: "I'm very excited, it's a once-in-a-lifetime opportunity. I feel very privileged to be part of such a memorable event."
Shabnum, 14, asked Hansyl Parchment what he had for dinner, and he said he "liked the chicken but not the carrots!".
Reporters Shabnum and Jessica interviewed entrepreneur Levi Roots - famous for the success of his Reggae Reggae sauce after his appearance on BBC programme Dragon's Den - who was among the crowd watching the athletes train.
"He bid for a signed Jamaican team T-shirt which he won," Jessica said.
Shabnum added: "It was a fun day, beautiful weather, a great atmosphere and the athletes were friendly. Overall it was a fantastic day."
Lead teacher Teresa Wilson said: "I couldn't teach the skills they have learnt over the last few reports, they have grown as reporters.
"It's a real pleasure to watch them grow and evolve using everything they have learnt. I feel very honoured to have been part of their journey to date."