Paralympic Games: Day 11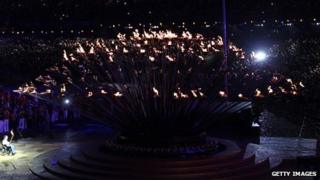 After two weeks of sporting excellence and inspirational stories which have captivated the nation, the Paralympic Games are finally coming to an end - although there is still some top action to get excited about on the final day of competition.
With unprecedented ticket sales and public and media interest, the Games have been a huge success on many levels.
But what do young people think about the Games and what they represent?
School Reporters have been looking into what the Games mean to them and looking back at the history of an event which has grown into one of the biggest sporting competitions in the world.
In terms of the sporting action, the final day sees the men's and women's T54 marathon races with strong medal hopes for ParalympicsGB in the shape of Shelly Woods and David Weir, who have both spoken to School Reporters.
And of course with the end of the Games comes the closing ceremony which is sure to be as spectacular as its opening counterpart, with School Reporters interviewing one young east Londoner who will be among the dancers and 120 young people performing.
CLOSING CEREMONY STAR
School Reporter Tasnim from Morpeth School in London has been chosen to take part as a dancer in the closing ceremony for the Paralympic Games.
After being chosen by her PE teacher to take part in the auditions, Tasnim has been taking part in rehearsals and has even got an extra two weeks off school so all the people involved can make sure everything is just right for the ceremony which will be watched by millions around the world.
Interviewed by fellow School Reporters and friends Anjuma and Mahfuza, Tasnim described the moment when she found out she had been selected.
"I was shocked, I didn't know what to do - I was screaming and my friends started joining in" she said.
"My mum and nan almost cried and to see them so proud made me really happy."
And her friends are also delighted to see Tasnim involved in such a huge event.
Mahfuza said: "I feel really happy and proud of you - the feeling that my best friend is going to be in the Paralympics makes me feel like 'oh my God...'"
PARALYMPIC INSPIRATION
What do the Paralympic Games actually mean to the young generation that London 2012 has vowed to inspire?
School Reporters Tameena, Mafuza and Anjuma from Morpeth School in east London have been thinking about what the 2012 Paralympic Games represent to them.
"I think inspiration is a very important Paralympic quality because it motivates others to reach for their goals," said Anjuma.
And from promoting equality to demonstrating determination, the students hope these Games will inspire their generation - and they also delve into the Olympics, picking a famous incident from the Barcelona Games of 1992 as an example of what they believe is important about sport and the values it represents.
When Derek Redmond snapped his hamstring during his 400m race in Barcelona, he was distraught as years of training and hard work were ruined.
But he was determined to at least finish the race and hobbled to the finishing line, with the memorable support of his father who jumped from the crowd to help his son finish an emotional race and seal a place in the hearts of millions.
WHEELPOWER CHIEF
School Reporters from Lealands School have been looking at the history of the Paralympics with former Paralympian and sport rehabilitation advocate, Martin McElhatton.
Martin, who played wheelchair basketball for Great Britain in the 1980s, is now the chief executive of Wheelpower, an organisation which continues the work started by Dr Ludwig Guttmann at Stoke Mandeville Hospital in the 1940s.
He explained to the School Reporters that the first ever version of the Paralympic Games, known then as the Wheelchair Games, took place in 1948 at Stoke Mandeville, championed by Dr Guttmann and his pioneering belief that sport should be part of the rehabilitation of people with spinal injuries.
"From those early games on the lawns of the hospital, the Paralympics started... they have become what they are today with thousands of athletes from hundreds of countries all across the world taking part in London 2012," he told them.
PARALYMPIC REPORTING
Meanwhile the athletics action concludes and two of ParalympicsGB's top stars are in action in their respective marathon events.
But for David Weir and Shelly Woods, these Games have been very contrasting experiences so far.
David Weir has been one of the faces of the Games, winning three gold medals in the 800m, 1500m and 5000m, but Shelly Woods has struggled for her best form.
Pupils from Glenthorne High School in Sutton interviewed David Weir who told them about his hopes of striking gold at London 2012, while St Aidan's CE Technology College students in Blackpool interviewed Shelly Woods.
Shelly gave them some inspiring messages, including this little piece of advice for aspiring Paralympic athletes: "If you really want to do something, believe in yourself and go for it because, with a bit of hard work and commitment, you can get to where you want to go.
"Make sure that you get a good coach because I think that you need good advice to help you improve. But don't forget, it's going to be tough, it's hard work, you've got to go out there every day, working hard to try and get better and better. So make sure you just stick at it and work as hard as you can."