Paralympic Games: Para-cyclist Rik Waddon sets sights on gold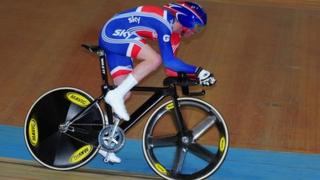 The British Para-cycling team had a successful time at the Beijing Paralympics, winning 20 medals, including 17 golds, and the team want to enjoy more success at London 2012.
School Reporters from Cardinal Langley School in Middleton went to the Manchester Velodrome, where the GB team do a lot of their training and met Para-cyclist Rik Waddon.
Rik, who was born in Chester but now lives in Chorley, has cerebral palsy. He won a silver medal at the Beijing Paralympics in 2008 and is hoping to win gold in London.
His wife Natalie Jones is also a top Paralympic swimmer and will also be competing in London. School Reporters Joshua, Leah and John asked Rik about his preparations for the Games.
Q: How do you feel about the Paralympics being in your home country?
A: I think it is something to savour. To have a Paralympics in Britain is probably only going to happen once in my lifetime so it is going to be special for me to be part of it.
What makes it more special is that my wife Natalie is going to be competing on the GB swimming team and she will be in the athletes' village as well. We both competed in Beijing but we weren't married then so it is going to be great for us to be there competing and taking part as a married couple.
Q: Are you as nervous ahead of these Games as you were at your first big event?
A: Nerves don't seem to affect me now. Beijing was my first Games and I didn't really know what to expect. Now I know what it is like being in the village environment with athletes from all other sports and it is quite epic.
I will just go and do what I do best. Over the last four years I have been training and racing and preparing for these Games. I'm raring to go now.
Q: Do you support your wife in her events and does she support you too?
A: We both support each other and both of our families support us both as well, which is really important to us. They have tickets to come and watch us competing and it will be great to have them supporting us.
They came out to Beijing but being able to see us compete in London will be brilliant. I think Natalie feels the tension of competing more than I do - I am definitely more laid back.
London will be her fourth Games and I think I help to keep her going while she helps me because I am newer to it but it is a good balance to have.
Q: How do you celebrate after winning?
A: I usually celebrate with Natalie and our families and if she wins it is a double celebration!
We both understand the hours of training and dedication needed so when you do win it all sinks in and that is why you see a lot of athletes crying on the medal podium.
Because you have to watch your diet when you are training, after the Games there will be a big binge on food and I think I will treat myself to a burger or two!
Q: What would you like to do if you weren't involved in sport?
A: I haven't thought that far ahead and I don't see myself doing anything else. I have been doing cycling for the past 20 years.
The thought of retiring has crossed my mind and it can be a difficult time because you are always hunting for that winning feeling and when you retire that stops so you have to get that feeling from somewhere else.
There is no feeling like the one you get from pushing your body to the limit.
Q: What keeps you going?
A: The thought of winning in gold in London is a big motivation for me at the moment because the Paralympics comes around just once every four years and you have to get everything right on that given day.
It takes a lot of planning to make sure you get it right - I started planning for London straight after Beijing.
Q: How dedicated do you have to be to be a top-class cyclist?
A: Very dedicated - I am devoted to the sport 24/7 and it isn't just getting up and riding a bike.
You have to think about your diet, make sure you have recovery time between training sessions and try to stay one step ahead by thinking how the decisions you make will impact on your ability to stay at the top of your field. You have to make a lot of sacrifices.
Q: What are your aims for the Games?
A: I want to win gold in the team sprint. Britain had dominated the event for the last seven years but at this year's World Championships in Los Angeles China beat us to gold.
At that stage I wasn't in the sprint team but soon after the Worlds I got a phone call asking if I would dedicate my time to that event and I thought about it and agreed.
Since then, things have been going in the right direction to try to achieve the gold medal. Anything can happen on the day but I'm confident we can put in a strong performance that should rival the Chinese team.