Paralympic Games: Day 7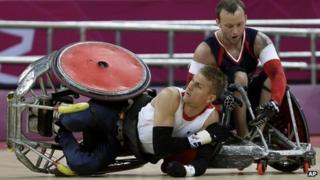 The Paralympic Games may be in full swing but there are still more sports that are still waiting to make their entrance on the grand stage.
One of the most eagerly awaited is the (almost) no-holds-barred sport of wheelchair rugby and it gets under way today at the Basketball Arena inside the Olympic Park.
Wheelchair rugby also goes by the nickname of "murderball" which might give you a bit of an inkling into the level of physicality and aggression involved.
School Reporters from the Hounsdown School quizzed ParalympicsGB captain Steve Brown about his route into a sport which is sure to be one of the hits of the Games.
Meanwhile, the men's wheelchair basketball quarter-finals will see Great Britain in action against Turkey for a place in the last four, and School Reporters from Lealands High School got an expert opinion from Under-22 GB players Billy and Steven who were training with the senior squad and have their eyes firmly set on Rio in 2016.
And some School Reporters from Robert Clack School in Dagenham and Tupton Hall School in Chesterfield have been fortunate enough to have the chance to be at the Olympic Park to report on the action for themselves.
LATEST UPDATES
1745: School Reporter Ellie-Rose from Tupton Hall School
"The atmosphere has been really amazing, there's a real sense of community; it brings everyone together really well."
1740: School Reporter Harry from Tupton Hall School
"My favourite part was watching David Weir get his medal, it was really inspiring!"
1735: School Reporter James from Tupton Hall School
"There was a world record in the women's shot-put, that was really inspiring to see."
1215: School Reporter Shah from Robert Clack School
"It was fantastic to watch our relay team get their bronze medal, especially as it almost didn't happen for us! Well done!"
1207: School Reporter Michael from Robert Clack School
"The atmosphere in the Olympic Stadium is electrifying. The crowd are very supportive of the Paralympic athletes and admire how they have overcome any adversity; it is a highly enjoyable environment to find myself in."
1157: School Reporter from Robert Clack School
"So far my trip to the Paralympics has been fantastic, words cannot describe how loud the crowd was when David Weir received his well-deserved gold medal. The atmosphere in the stadium is simply amazing."
1154: School Reporter Chloe from Robert Clack School
"The atmosphere is buzzing, everyone around is cheering, but the thing I find most exciting is when a GB Paralympian is next to compete - the crowd goes absolutely crazy! I'm finding this experience almost hard to believe as I think I'm very lucky to be sitting in this stadium, and I'm proud to be British!"
1153: School Reporter Craig from Robert Clack School
"An amazing atmosphere - British flags are flying proud all around the stadium. A once in a lifetime experience."
THE POWER OF WHEELCHAIR RUGBY
When Steve Brown watched a game of wheelchair rugby after damaging his spinal cord in an accident in 2005, little was he to know the profound effect it would have on his life.
"Where I was mentally and physically compared to where they [the players] were was huge," he told Izzy and Megan from Hounsdown School.
"I was feeling very nervous and scared and trying everything to stay in my wheelchair and I was in this sports hall with blokes trying to knock each other out of theirs!
"I decided I wanted to be a little bit more like them - to make the most of what I had rather than worrying about what I didn't."
Brown - who will lead his side out against the United States in their Pool A opener - certainly followed through on that wish, working his way up to become captain of the team for the Paralympic Games.
"My inspiration to make the most of myself and to be the best I could be after my injury was this team," he added.
"So to go full circle and to be in charge of the team that inspired me in the first place, I never thought that would happen."
Meanwhile, Aaron Phipps - one of Brown's GB team-mates - has also been talking to School Reporters ahead of the Games.
Megan and Izzy from Hounsdown School spoke to Phipps, who used to work at their school, about how he found out whether he had made the team or not.
In the interview, which was broadcast on BBC Radio 5 live, Phipps reveals that he found it difficult keeping the news a secret, particularly when he started crying in front of a headteacher!
GB BASKETBALL'S BIGGEST FANS
Like any good team, the ParalympicsGB wheelchair basketball squad - who take on Turkey in the quarter-finals of their event today - is hard to get into and has a pipeline of up-and-coming young talent waiting in the wings for their chance on the big stage.
School Reporters from Lealands High School spoke to Billy and Steven from the Under-22 GB team about their thoughts on the Paralympics and Britain's chances of success.
The young players have been training with the senior squad so have a well-informed opinion when it comes to GB's hopes of a medal in London.
GB GOALBALL GOES FOR GLORY
Britain's women goalball team take on Sweden today for a place in the semi-finals of their competition, buoyed by their 5-0 win over European champions Denmark in their final group game.
School Reporters from Melbourn Village College in Cambridgeshire interviewed ex-pupil and GB goalball star Georgina Bullen about her hopes for London 2012.
"The Paralympics is the best teams from all over the world and you really want to be there - and win it," she told the School Reporters, so fingers crossed!
PARALYMPIC REPORTING
South Africa's Oscar Pistorius has been in the headlines a lot recently and mainly for his comments made after his defeat in the 200m.
But today he's taking to the track in the T44 100m heats to remind everyone why he's still a medal hopeful.
Earlier this summer, he spoke to School Reporters from Stoke Newington School in London about his ambitions, and revealed he had learned some valuable lessons by competing against able-bodied runners in last year's World Championships.
"The more I accomplish, the more pressure I put on myself..." he told them in the interview.
Meanwhile, Great Britain's teenage sprinter Sally Brown will run in the final of the T46 100m race after coming through the heats on Tuesday.
Brown was in the running for the Young Sports Personality of the Year Award last year after she had won a bronze medal at the age of 16 in the Paralympic World Championships in New Zealand.
She took part in a School Report Q&A where she revealed all about her life as an athlete and how she balances school work with training.
And as for the sacrifices of being a top athlete, there's one thing that Sally really misses: "spoonfuls of Nutella!"
Welsh cyclist Mark Colbourne will be saddling up for the cycling time trial, this time on the road after his successes in the velodrome.
Students from Duffryn High School went to watch a velodrome training session and managed to catch an interview with the man who has already won gold and silver at these Games.
The former volleyball player spoke to the School Reporters about how cycling became an addiction after a paragliding accident in 2008 left him with paralysis.