Paralympic Games: Day 3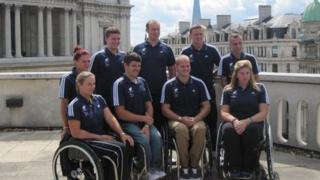 Day three of the Paralympic Games sees the wheelchair tennis action get under way at Eton Manor in the Olympic Park, with Great Britain's players hoping for more success in a sport which has proved a reliable source of medals in recent years.
School Reporters from Robert Clack School in Dagenham interviewed members of the GB wheelchair tennis squad - not just about their medal chances but about the bigger picture of what the Paralympic Games can achieve in changing the perception of disability in the UK among young people.
In addition to the top players at the Paralympics, School Report also have two wheelchair tennis stars of their own in the shape of Charlie and Abby at Hastings High School in Leicestershire.
And why not check out Charlie's daily diary about the Paralympics too?
Meanwhile, School Reporters have also been covering other Paralympic athletes and sports as part of a summer of reporting on a historic year for the UK and the pupils of St Angela's Ursuline School in Newham have been sending in their reflections and updates from inside the Olympic Park!
LATEST UPDATES
1106: School Reporter Janet from St Angela's Ursuline School
"It's one thing to be able to say that the Games were here when I was but it is another to say I was a part of it and it is an experience I will treasure for the rest of my life."
1101: School Reporter Michele from St Angela's Ursuline School
"It has been the most fun experience I have had and I am creating many memories along the way. :-)"
1056: School Reporter Samia from St Angela's Ursuline School
"It's a great experience and I can go away with memories and tell people that I was working at the Paralympic Games for London 2012!"
1049: School Reporter Hilary from St Angela's Ursuline School
"It is fun to watch medals being awarded and also inspiring to witness such extraordinary talent. Simply amazing!"
1032: School Reporter Lauren from St Angela's Ursuline School
"It's inspiring and awe-evoking to be a part of history, it makes me even more proud to be British to be surrounded by the glory of London and the Paralympics coming home! :-)"
1030: School Reporter Elaine, 16, from St Angela's Ursuline School
"It is so great to play an active part by being a young Games Maker in one of the greatest events in history! :)"
WHEELCHAIR TENNIS STARS WANT TO INSPIRE
One of the aims of London 2012 has been to "inspire a generation" and when it comes to living up that motto, the ParalympicsGB tennis squad take their duties very seriously.
School Reporters Chelsea, Stephanie and Sonakshi from Robert Clack School took the opportunity to quiz them - and coach Paul Regan - and asked some big questions about the role the Paralympics can play in society.
"It's fantastic to have a platform to allow anybody to compete regardless of their ability or disability," said Regan, who also spoke about the legacy of improved indoor and outtdoor facilities for his sport in east London.
"The Paralympic movement is fantastic - it allows disabled people who have a talent and an athletic ability to be able to perform at the highest level. It's a great advert for sport."
Wheelchair tennis player Louise Hunt, taking part in her first Paralympics, gave this genuinely inspirational take on the potential impact of the Games on young people, with or without disabilities.
"The key message is that no matter what you're ability or what hurdles you come across in life you can achieve whatever you want to," she said.
"It takes a lot of commitment and hard work but anything is possible for anyone to achieve."
And you can read more about Chelsea, Stephanie and Sonakshi's coverage of wheelchair tennis in the report they wrote for BBC News School Report about the experience.
SCHOOL REPORT'S VERY OWN WHEELCHAIR TENNIS STARS
"I don't normally play sport in a wheelchair, but when I'm with Charlie I do" - the words of Abby, who is being taught how to play wheelchair tennis by her best friend.
The two 13-year-olds, who attend Hastings High School in Burbage, Leicestershire, have grown up together and keen sportsman Charlie was keen to show his buddy the ropes.
He is delighted Abby took up the challenge, but she readily admits she is going to need a lot of practice to give him a proper test!
PARALYMPIC REPORTING
After a tough baptism in their opening two group games against Lithuainia and Turkey, the GB men's goalball team need a big improvement against Sweden.
School Report has been closely involved with the sport thanks to 15-year-old David Knott, a member of the ParalympicsGB team himself and - when he has the time - a School Reporter!
As well as helping produce a brilliant guide to his sport, David interviewed his older brother Adam - also in the goalball squad - in a report to mark one-year to go until the Paralympics, giving an insight into the sacrifices athletes need to make.
And look out for more to come from the Knott brothers and School Report!