Paralympic Games: Day 2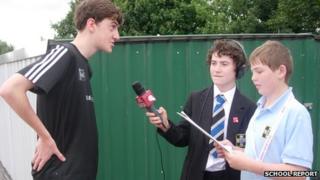 The athletics competition gets under way today at the Olympic Stadium, with field events like the men's club throw, discus throw and shot put all grabbing the spotlight as the medals are dished out.
But have you ever thought about how wheelchair-user athletes involved in the throwing events ensure they can safely throw as far as they can?
Possibly not, but the School Report team from St Columba's Catholic Boys' School in Bexley have been looking into the issue with some of the team responsible for that very job...
Meanwhile, School Reporters have also been looking into other sports and stories, including football and an interview with Mark Colbourne - Britain's very first medallist of the 2012 Paralympic Games!
And we're also been receiving live updates from School Reporters from Rutlish School in Merton Park, St Angela's Ursuline School in Newham and Ravens Wood School in Bromley who are "on location" at the Olympic Park watching the action for themselves!
LATEST UPDATES
1805: School Reporter Tom, from Ravens Wood School:
"My highlight so far has been cheering and watching Hannah Cockroft storm to victory in the 100m wheelchair racing - it was brilliant.
"I would definitely encourage people to come and see disability sport - I think it's incredible. I've never seen it and I was really impressed.
From School Reporter Will, from Ravens Wood School:
"Hearing all the different accents and diffent languages coming to our home town is amazing.
"The Olympic and Paralympic Games have motivated me - and probably lots of other teenagers - to do more sport and try to step things up, so maybe in eight or four years' time you could be in it."
1245: From School Reporter Janine, 14, St Angela's Ursuline School
"As soon as I entered the stadium, I could feel the atmosphere was full of energy."
1225: From School Reporter Nathaniel, Rutlish School
"I was watching the start for the women's 5000m round 1 heats and there is a women who is part of the GB Paralympics team called Shelly Woods, and when she started she got an amazingly loud cheer which brought joy to her and then when it was here last lap there was a great cheer.
"She said: 'I have never ever experienced an atmosphere like this ever!' She did a great job to make it third and qualify to the next round.
"And even I have to admit the atmosphere is amazing, and really cheerful and brings joy onto the athletes and onto the whole crowd. I am so glad that I got a chance to be here and experience this amazing event and all that comes with it."
1124: From School Reporter Jerrica, St Angela's Ursuline School
"It's a wonderful experience - what a great privilege!"
1121: From School Reporter, Rutlish School
"Although I cannot see that much, due to the fact I am so far away, I can still get a feeling of how fast they are.
"The speed at which the racers go is so astonishing, that it makes me wonder how they can go at such a constant speed over 5000m."
1113: From School Reporter Nicole, 14, St Angela's Ursuline School
"The atmosphere is great and we're having a good time. Come on GB!"
1111: From School Reporter Shirmila, 12, St Angela's Ursuline School
"I am having an amazing time watching the Paralympics. Well done GB!"
1100: From School Reporter Dominic, Rutlish School
"As we are sat here, surrounded by people from all walks of the earth, all united by one cause. The Paralympics!
"Whilst the athletes warm up we cheer, as they go past we cheer and when they pass the line the crowd goes ecstatic. No matter who comes first second or third they all get they same cheer. It goes to show that especially in the Paralympics everyone is equal and united as one!"
0935:From School Reporter Suzy, 13, St Angela's Ursuline School
"When I first entered the stadium I thought WOW! It looks truly amazing! The experience became even better when David Beckham's face came on the screen;) GO TEAM GB!"
0933: From School Reporter Sandra, St Angela's Ursuline School
"The 2012 Paralympic Games have been such a great pleasure. These Games show that you can overcome anything no matter who you are. Also the competitors of the GB team make us proud to be British!"
0931: From School Reporter Debbie, 15, St Angela's Ursuline School
"My second time at the stadium! Cant wait for things to kick off!"
0926: From School Reporter Sasha, 13, St Angela's Ursuline School
"This place is so cool! It's amazing and everyone has come together to support GB!"
HANGING WITH THE 'TIE-DOWN CREW'
Hundreds of thousands of tickets have been sold for the Paralympic Games, but School Reporters from St Columba's Catholic Boys' School recently met a group of young people who will be watching the Games from an extraordinarily privileged position.
Three members of Bexley Athletic Club in Kent have been picked to be part of the Games' 'tie-down crew', whose job it is to secure Paralympians in their specially adapted chairs before they compete in throwing events.
Reporters Alex, Olly, Patrick, Mike and Daniel went to the athletics track to meet members of the crew and find out more about their job.
BATTLING BACK TO THE PARALYMPICS
The ParalympicsGB team has the Ministry of Defence's Battle Back programme to thank for the presence of discus thrower Derek Derenalagi in the squad.
Derenalagi, originally from Fiji, lost his legs while serving in Afghanistan but is now in with a chance of a medal in the F57 discus competition in London.
The 34-year-old, who featured on the front page of The Sun on the first day of the Paralympics, was interviewed by Olli who's a pupil at Skinners' Academy in Kent.
"I used to be a rugby player before I lost my legs," said Derenalagi.
"I was in hospital and watching the Olympics and Paralympics in Beijing and came up with the idea that I could do this.
"I went over to America with other injured soldiers to try out different Paralympic sports and that's when I fell in love with track and field."
WHEELCHAIR FOOTBALL WHIZZES
The five-a-side football tournament gets under way today, with Great Britain in action against Spain in Pool A.
The sport is for visually impaired athletes, who all wear blindfolds, while seven-a-side football is also a Paralympic sport for athletes with cerebral palsy.
Another form of "the beautiful game" is wheelchair football, an important sport to many of the pupils at New Bridge School in Oldham.
Some of the school's pupils are wheelchair users and the sport allows them to play alongside, and often beat their able-bodied class-mates and pupils from other schools.
New Bridge recently took on The Radclyffe School, who are also from Oldham, and you can watch their School Report as they showed who was in charge!
MORE PARALYMPIC REPORTING
ParalympicsGB cyclist Mark Colbourne, who was quizzed by School Reporters from Duffryn High School earlier this year, was Britain's first medallist of the Games with a silver in the C1-3 1km time trial.
Colbourne was an international volleyball player for Wales who broke his back in a serious paragliding accident in 2009, and understandably he thought his sporting career was over.
But the 42-year-old has reinvented himself as a world-class Para-cyclist, with a world championship gold medal to his name and four events to compete in - incuding the pursuit on Friday.
The School Reporters were keen to find out what drove Colbourne to take up an entirely new discipline and learned that you don't necessarily need "bum muscles" to ride a bike!