London 2012: Martyn Rooney talks 400m with School Report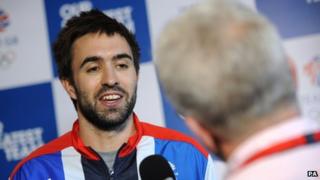 Great Britain's Martyn Rooney is competing at the 2012 Olympic Games in the 400m four years after his impressive sixth spot in Beijing.
Born in Thornton Heath, Rooney attended The John Fisher School in Purley and was delighted to answer questions set by reporters from his old school in the build-up to London.
Montel, Tom and David interviewed the likes of sprinter Dwain Chambers and 400m hurdles world champion Dai Greene at the Diamond League meeting in Crystal Palace, and took the opportunity to put some questions to Martyn via email.
And as part of their preparation the pupils interviewed the school's head of PE Mr Davies, to find out his memories of Martyn as a young athlete at John Fisher.
Montel:
Q: We spoke to Mr Davies and found out some of his memories of when you were at John Fisher. Which teacher or coach most inspired you when you were a young athlete and why?
A: I was very fortunate that I receive a lot of support from my teachers at John Fisher, everyone was very supportive of me and encouraged me to do well from an early age whilst not putting to much pressure on me.
Ms Tomes was the head cross country coach whilst a lot of the teachers such as Mr Davis, Mr Spaul, Mr Liddiard, Mr Simpson, Mr Hopkins, Mr Reid and Mr Dames all took a keen interest in my running whilst making sure I had the best opportunities to train and study.
Tom:
Q: With the London Olympics so close, how confident are you feeling and do you think you can set a new PB during the Games?
A: I'm a very positive person and I believe that I have trained as hard as my body will let me in preparation for the London Olympic Games.
Running a PB will be necessary for me to achieve my goals at the championships and I'm not going there to make up the numbers so yeah, I guess you could say I'm pretty confident!
David:
Q: What are the main differences for you when you're running an individual 400m as compared to being part of a relay team?
A: Running a relay is far easier to me than running the flat 400m. I'm really relaxed in the relay but if I'm too relaxed for the 400m I run rubbish so I have to try and find a balance between the two.
Running a relay reminds me of playing rugby as a youngster at John Fisher - I enjoy the team element of it and try to get the best out of the other runners. Rugby and running the 800m has really helped me to prepare for the relay as it can be quite physical.
You often have to spot gaps before they appear otherwise you will be boxed in, a bit like finding a gap in the defence and sprinting through it! Hopefully in London I'll come away with two medals to bring home to Croydon and show them to the boys at John Fisher School!