Olympic diving: Team GB's schoolgirl star Alicia Blagg on her Olympic journey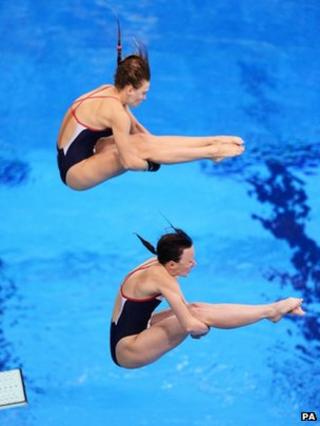 For Alicia Blagg, going to the Olympics isn't about the medals or the fame; it's about the experience with her diving team. "We all get on so well, we're like one big family!"
However, this doesn't mean she won't be putting in the effort, for her debut Olympic performance. "I'm giving 120% in training, and I'm going to give it my all on the day".
Alicia, 15, started the latest leg of her Olympic journey on Friday 8 June, when she competed in the Olympic trials. "It was a huge competition, with divers from all over England. I was one of the youngest there!" The event was the 3m synchro, which was the main event Alicia was focusing on. "
"For the weeks, running up to it, I was training three hours after school every day, and six hours on Saturday".
The pressure for Alicia was on at the 3m synchro. "It was a straight final, no qualifiers. It was one shot to win. If we messed up, it was all over."
After a first-class performance, and first place with her synchro partner Rebecca Gallantree, she then had the 3m individual on 10 June. "I didn't go into the event expecting much, because my main goal had been the 3m synchro".
This was not the case, however, as Alicia surprised herself with second place in both the preliminary and finals, beating her personal best in both. "It came as such a shock, but I was so happy!"
Once she had finished the trials, she had a nerve-wracking day to wait before she received the news of whether she had qualified for the Olympic Games.
On Monday 11 June, Alicia went to see her head of year. "I knew my mum would have texted me by then to tell me the news". Alicia switched on her phone to find the all important text: You've qualified for the Olympics!
"I screamed 'I've got through' to my head of year. I was so happy. I didn't know what to do!"
The next day, Alicia flew off to Majorca with the rest of the divers for 12 days of pre-training bonding.
"It was 12 days to work hard at the gym, ease into serious training and bond with the rest of the team". Alicia had already bonded with a number of the team, as five divers from Leeds joined her in qualifying.
For Alicia, it has been a journey of extremely hard work and long hours, but now that she has made it to the Olympics, she couldn't be happier.
"It's incredible. There are no words to describe how I feel. When I started eight years ago, I never in a million years expected to get this far!" However, it hasn't always been an easy journey for her to make.
"I've missed school trips and experiences it's been difficult finding time to see my friends and I've had to make sacrifices for my diving career, so I'd like to think I've earned the opportunity to compete in the Olympics".
While by now, the nerves would have got to a lot of competitors, Alicia remains confident. "So far I'm fine with everything. When I receive my official kit, I think the nerves will definitely set in and it'll hit me: I'm going to the Olympics!"
As Alicia is only 15 years old, her performance, no matter the placing she receives, is likely to receive a lot of respect and credit.
"I don't feel like there's pressure on me. Other teams have more experience, while this is my first time. I'm not expected to medal, but on the day, who knows what will happen?"