London 2012: TeamGB athletes talk to School Reporters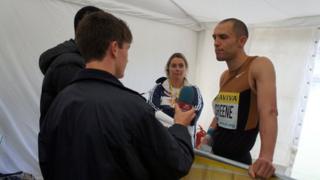 After school, we travelled on the train with our teacher Mr Lawrence to Crystal Palace, where the Diamond League athletics was taking place. It was a huge event and only a few days before the London Olympics.
After a short walk from the station, we arrived at the stadium where we met Phil Harlow, a journalist from the BBC who filled us in on everything that would take place that evening.
We went with him to the media centre where we collected our accreditation and then sat down and worked on our questions for Colin Jackson, who would be the first person we interviewed.
Colin is a former 110m hurdles world champion and world record holder and is now a sports presenter for the BBC.
We were all a bit nervous about it because we had never interviewed anyone famous before and wanted to get our questions right.
But when we met Colin and started the interview, it turned out he was a really nice guy and this made it a lot less frightening!
He was a very positive interviewee and gave us full and really productive answers.
Overall it seemed to go well and it boosted our confidence.
We then interviewed Tom Fordyce, the chief sportswriter from the BBC Sport website, who told us about his career and gave us some top tips for sport reporting - as well as telling us about his passion for Otis Redding, Stevie Wonder and Marvin Gaye!
After that - and eating some of the food provided for the media! - we then got to watch some of the athletics action, including the high jump, discus and 100m.
Thanks to our accreditation, we were able to get access to the mixed zone where journalists can interview the athletes after they compete.
We got the chance to interview some of the most talked-about athletes in Britain like Dai Greene, the captain of the GB athletics team for London 2012 and the controversial sprinter Dwain Chambers.
We also saw Mo Farah, possibly the world's greatest 5000m runner. Although we couldn't get our questions to him we managed to get our microphone close enough to record his answers!
And David managed to pass a piece of paper to him to sign!
Overall it was an amazing night and a great experience. We hope we get the chance to do something like it again.