Give An Hour: School Reporters prepare for digital Olympics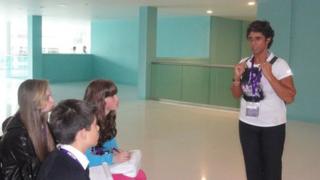 This year is very important for Britain with the Olympic Games starting later this month.
The BBC will have the biggest amount of sports coverage ever available and to help get as many people as possible to make the most of the summer of sport, the BBC has launched its Give an Hour campaign with help from presenter Chris Hollins and former Olympic javelin medallist Fatima Whitbread.
During the Olympics you can watch every event from every venue when it is happening on your laptop, tablet or phone but there are some people who don't use the internet a lot and we went to find out more about how the BBC and us can help.
'Never miss a moment'
We first spoke to Mike Burnett who works for the BBC. His job is to make sure that everything on the BBC 2012 site looks good - and most importantly, everything works properly!
While talking to Mike we learned that while the target audience for the website is the general public of all ages, sport is generally more popular with males aged 25-45 on average.
For the Olympics, there will be 2,500 hours of all sports and 24 live internet streams making almost everything available on the BBC website and "Never Miss A Moment" is one of the catchphrases.
The purpose of this campaign is to ensure that as many Olympic events are seen by the wider audience and Mike encouraged us all to be digital champions and help get other people who might not know much about the internet involved.
"Not everyone has tickets to the Olympics but this can be your digital ticket to the Games. The BBC wants to give you the best ringside seat it can," he told us.
"For people who don't use the internet, it is important to give them a reason for using the internet and why it's important.
"Nothing like this has ever happened before, we're all going to be a part of history."
Fatima Whitbread spoke to us about her difficult childhood and how she got to where she is today.
She told us that one day she was practising with a javelin outside the children's home where she lived and smashed a French window, resulting in her being grounded for a month.
She wasn't allowed to go to the track and wrote a letter to her coach Mrs Whitbread, who later adopted her, about her absence. She was then allowed back on the track after a week.
Fatima also told us about her career and all of her achievements and said that the happiest moment of her life was the birth of her son Ryan but that all of her sporting achievements were also memorable, especially when she won her medals and broke the world record.
She also told us the story of when she got a cockroach stuck up her nose when she was in the jungle for I'm A Celebrity - Get Me Out of Here!
We also asked her about the Olympics and she said that the Olympics will be great for the British competitors because of all the supporters and that she is expecting TeamGB to do well.