Torchbearer 'proud and nervous' as she prepares to run with the torch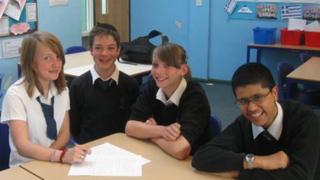 "My proudest moment!"
These are the words of Eloise, an inspirational Year 8 student from Bramcote Park Business & Enterprise School in Nottingham She will be carrying the Olympic torch through Glapwell in Nottinghamshire on Friday 29 June.
Eloise, 13, a top-set student at the school, was selected after her father secretly nominated her because of the way she has responded to the tragedy in her life.
Eloise's mum died tragically a year ago of the most common and untreatable type of adult brain tumour called Glioblastoma Multiforme or GBM that has an average life expectancy of just 14 months.
Her mum's death has inspired Eloise to "live life to the full" and to make her family proud.
And she is doing just that. Eloise, with the help of her dad, has set up a charity called Headcase, which aims to raise awareness of GBM and to raise money to do research. So far Headcase has raised thousands of pounds through dozens of fundraising events including a charity bike ride and charity balls.
Olympic hopeful
Eloise is also a budding Olympian herself. She has already proven she has what it takes to represent her country in years to come. On her first attempt at triple jump she equaled the school record of 8.50m. She also represents her county, training with Notts AC.
Eloise is really excited about carrying the torch and is really proud to be amongst the 8,000 who have been selected but knows she'll be really nervous on the day.
Her worst fears are dropping the torch or setting fire to her hair in front of all the spectators!
This weekend will be an emotional time for Eloise and her family as she will be carrying the torch only three days before the first anniversary of her mum's death. Eloise is sure her mum would be proud of her and she knows she has the support of her many friends, family and school.