Diamond Jubilee: Nottingham pupils thrilled by Queen visit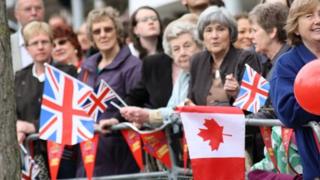 The people of Nottingham flocked in their thousands today to watch as our Queen and the Duke and Duchess of Cambridge visited the Old Market Square today.
Flags filled the air and infants as young as eight lent their voices to impromptu renditions of God Save The Queen.
Enthusiastic citizens of all nationalities joined together for this once in a lifetime opportunity and celebrated Her Royal Highness's Diamond Jubilee of 60 fantastic years on the throne.
Some people had taken up their posts on the route into the city in the early hours of the morning in their attempt to grab a close look at the Queen.
This just shows how patriotic the royal supporters of the Commonwealth are when they travel near and far to see the members of the Royal Family.
Well-wishers warm to Kate and Will
When the Queen walked onto the balcony, the crowd went wild! Men, women and children shouted warmly, cheering loudly.
She responded with a warm smile and an elegant wave.
Even though weather forecasts had promised rain, well-wishers thankfully had no need for thier umbrellas until well after the Royal Party had begun its journey to Vernon Park, which is to be granted Queen Elizabeth II Field status.
We were privileged to be part of this over-whelming event with massive crowds cheering around us.
The brilliant marching band played traditional songs whilst crowds sang out their hearts.
Some visitors to Nottingham even wanted to take pictures with us!