Bradford pupils celebrate school sport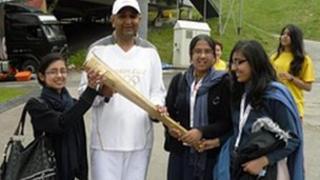 Thousands of students from across the region came together at Odsal Stadium, home of the Bradford Bulls, to celebrate the opening ceremony to a week of events celebrating sport, music, art and dance on Monday 25 June 2012.
The week-long project, in conjunction with National School Sport Week, continues with sporting tournaments across the Bradford region.
Grange Technology BBC News School Reporters were there to observe the events and soak up the atmosphere.
The stadium was filled with anticipation as students cheered, sang and danced while waiting for everyone to arrive. It was electric - loud, vibrant and very colourful with banners, created by pupils, covering the pitch.
There was a Mega Sing with a Symphony Orchestra, a world record Zumba attempt on the pitch, a flyover, cheerleading and a Schools' Olympic parade.
Each of the reporters spoke to a wide variety of school staff, students, participants and helpers.
Everyone was in agreement that this event was a fabulous way of pulling communities together to celebrate the build up to the Olympics. Some of the favourite words to sum up the event were: "magical", "fab", "awesome", "exciting" and "enthusiastic".
Students from Southfield School, Bradford, summed up the event well, saying: "It is BIG and we have made new friends. It's been good to mix with other schools."
Reporters had the opportunity to meet Khalil Ashraf, one of the Olympic torchbearers. Khalil had run with the torch the previous day and was still on an emotional high.
Today Khalil led the Schools' Olympic Parade around the stadium to some loud shouts and cheers.
Bradford Bulls chief executive Ryan Duckett said it took just over eight months to organise the event and that the atmosphere was brilliant and he was enjoying himself.
Good luck to all participating in the week's sporting events!