World Sport Day fever hits Burntwood School!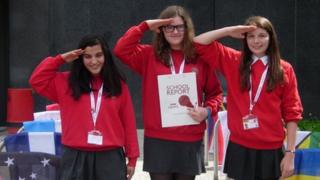 On a surprisingly sunny day in South London, Burntwood School has been infected with Olympic fever as sport takes centre stage.
It is World Sport Day, an event organised to celebrate the coming together of different countries and cultures through sport.
It kicks off the National School Sport Week: a five-day celebration of PE, sport and the Olympic and Paralympic Games across thousands of schools around the UK.
Burntwood School was lucky enough to welcome special guests former athlete Jonathan Edwards, still the triple jump world record holder, R&B superstar Lemar and the 2012 mascots Wenlock and Mandeville.
Our principal, Ms Dorfman, told us that it was great to be hosting this event which brings people together.
Edwards said that sport makes you more tolerant and broadens your horizons, and that is what World Sport Day promotes.
"It is really important for young people to get an appreciation of different cultures," he said, adding that the day celebrates all the different nations who will be coming together to compete at the Olympics and Paralympics in a few weeks.
But will he still be celebrating if someone beats his own world record at London 2012?
He told us: "I've held the record now for 17 years so it feels like my property!"
He said the main threats to his record of 18.29m in the triple jump event were from Britain's Phillips Idowu and American Christian Taylor, but added that he was keeping his fingers crossed that he kept his record!
The ceremony began in the sports hall with a procession of flags made by Burntwood students, with the winners being announced by Edwards.
We were treated to some music from Burntwood's steel band and trumpeters. The students truly got into the spirit of the event, clapping along and doing Mexican waves!
There were two performances by Burntwood's dancers, one with 'Olympic rings' and then the mascot dance which saw Year 7 pupils perform with Wenlock and Mandeville.
Suddenly the crowd went wild as Lemar took to the stage. Following an interview the crowd of students chanted "Sing! Sing!" and so Lemar gave an impromptu performance which wowed the audience.
Speaking to us after the ceremony, Lemar said that sports and music are really similar, as they bring people together.
He said: "The event today is absolutely amazing… it is inspirational to come here and meet people and feel the love!"
So from dancing to singing, from flags to mascots, this memorable event launches a week of great sport in schools.
The values of the Olympic and Paralympic Games - inspiration, equality, friendship, excellence, respect, determination and courage - have truly been reflected here at Burntwood School today.