2012 School Games: Singing for the sporting stars of tomorrow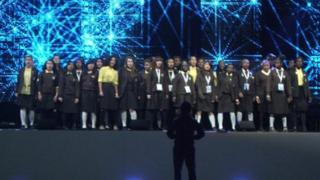 The 2012 School Games saw hundreds of elite school-age athletes able to compete in the Olympic Park.
As well as the talented athletes, there were also some talented singers on display including the choir of St Angela's Ursuline School who sang outside some of the venues and at the glitzy closing ceremony.
School Reporter Dorthea asked one of the singers about the experience:
Q: How long have you been a member of the school choir?
A: I started in Year 9 and I'm now in Year 10 so almost two years now. I had a short audition to get in, basically checking if I could sing in tune!
Q: What made you join?
I had always admired the Gospel choir since Year 7 and I always wanted to join. We can only join the Gospel choir from Year 9 but there is the Junior Choir for Years 7 and 8.
Q: Where did this choir event take place?
A: The event was the School Games 2012 at the Olympic Park on 9 May. We performed in front of the new Aquatics Centre and also at the closing ceremony in the Basketball Arena.
Q: When did you start preparing for the Youth Games performance?
A: We found out that we were one of six choirs chosen at the end of March so we were preparing since then. That gave us only about a month to prepare prior to the event.
A few weeks after we found out, our teacher told us that we were one of two choirs asked to perform for the closing ceremony as well!
Q: What was the audition process?
A: Our teacher found out about the auditions only a few days before the closing date. We had to record ourselves which was fun and send it off by mid-March.
We were given special permission to have one lesson to record our audition tape just one day before the closing date. We didn't have time to learn a new song so we sang Imagine Me by Kirk Franklin as we had won the Stratford & East London Festival Youth Cup with that song a month before.
We saw on the Musical Futures website that almost 40 other choirs auditioned including another St Angela's choir. We were up against some really good choirs and it was a hard process to get through, but fortunately we were considered one of the best!
Q: What songs did you sing?
A: We sang five songs for the Closing Ceremony and Aquatics Centre. They were:
Rolling in the Deep by Adele
Imagine Me by Kirk Franklin
The World's Greatest by R Kelly
Rain Down from the film Fighting Temptations
He Reigns by Kirk Franklin
Q: Who did you meet there?
A: We were able to see Cover Drive (a popular Bajan band, who sang their hit singles 'Twilight' and 'Sparks'), SpelBound (an extremely talented gymnastics group whose performances were extraordinary) and also Jonathan Edwards who is the world record holder in the triple jump!
Q: What was sound check like?
A: It was extremely professional and showed what a high-class event this was and it pushed us to be our best. There were six mic's placed in front of us which we're not used to an, there were also many spotlights facing the stage and a blue-lit backdrop behind us.
We did our sound check just after Cover Drive and it was surreal seeing their instruments just behind us.
Q: Were there any downsides to the day?
A: The only downside was that it was raining in the morning and also just after lunch, but we'd like to think that our harmonic voices cheered hundreds of people up as they went past the Aquatics Centre!
Q: What would you say was the biggest success?
A: Performing in front of thousands of people! We performed with confidence and displayed the talent from St Angela's to thousands of people from England, Wales, Scotland, Northern Ireland and even Brazil!