Euro 2012: England victory excites new reporters!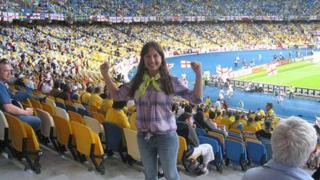 On Friday night a powerful earthquake struck Kiev and saw thousands of people come out of their home and travel to the city centre…
The earthquake was a Euro 2012 match between England and Sweden at the Olympic Stadium!
Before the match the tension on stadium was growing, but this only added spice to the atmosphere with so many football fans coming to support their teams and see a piece of football history with their own eyes!
There were only a few England fans in Kiev and we asked one of them why this was the case.
"Some people felt threatened to come to Ukraine, because our media talked about racism in your country at every step," John, 32, from London told us.
"But when we came to Ukraine we haven't seen any racism or violence. Ukraine is really great country, where people are very friendly and helpful."
On the other hand, Swedish fans told us that they hadn't even heard about racism in Ukraine so many went there with their families and friends. They really made themselves feel at home - they are very friendly and answer any questions.
England fan Brad, 43, said that Sweden and Ukraine would not progress from Group D to the quarter-finals. Although we don't want to believe him, unfortunately, it may be true.
It was obvious that at the stadium there were more Swedish fans than English and near the stadium it was really difficult to find English fans so we spoke to some more Swedish fans to learn their predictions for the match.
At first they tried to speak with us in Ukrainian and it was really pleasant to hear that them try, but then we began to use English and they told us that they expected Sweden and France to go out from the Group D to the quarter-final.
After this they started to shout "Sweden! Sweden!" and it was so nice that we even wanted to sing with them! Another great peculiarity of Swedish fans is, that they all wear T-shirts with national flags and symbols!
After the interviews we came to the Olympic Stadium, but the match was late kicking off because the other match in Group D - Ukraine v France - was delayed by rain.
And then finally the match started with the referee's whistle!
The first good chance was for Sweden but Seb Larsson's shot was straight into the hands of England goalkeeper Joe Hart, and he had to make another good save after 20 minutes from Zlatan Ibrahimovich.
Just three minutes later though and we saw the first goal! Steven Gerrard gave a splendid pass for Andy Caroll to head it into the net!
So the score at half-time was 1-0 to England and then we were treated to more singing from both sets of fans. Throughout the game. they tried to sing songs louder than their opponents!
Sweden sang "Zlatan! Zlatan! Zlatan Ibrahimovich!". In reply, England fans were shouting: "Shall we sing a song for you?"
This is a great feeling when you have something that makes all the people around you become your best friends. Something creates a close connection with all the fans, and you feel that you are doing something very important!
Early in the second half, Sweden equalised with a goal from Olof Mellberg after a pass from Ibrahimovich and after 59 minutes Mellberg scored again to give his team the lead.
The Sweden goalkeeper had to make some good saves, but after 64 minutes England equalised with a great strike from substitute Theo Walcott.
And on 78 minutes there was a third goal for England! Danny Welbeck scored a goal which put his side ahead and they held on until the final whistle.
So let's sum up... England's win puts them in second place in Group D, so they have a good chance to get to the quarter-final.
It was a great battle and we were happy to be witnesses of this historic event. Thank you very much to the BBC team and the British Council for the opportunity to be involved in this project.
Our lives have changed a lot since the moment our work started!