Euro 2012: Football fans bring colour to Kiev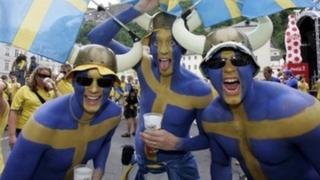 On Friday we will have the chance to watch a battle between two very strong and powerful football teams - England and Sweden - at Euro 2012, and only God knows who will be a winner!
In the judgment of the English fans we have spoken to at the fan zone, Steven Gerrard and John Terry will be the heroes of the match.
Moreover, football fans throughout Europe are waiting for a strong game from England, because they have excellent players of high class. It is a pity that Wayne Rooney can't take part in the match though, and I hope the team will cope without him.
Nonetheless, bookmakers seem to think that if England "find their game", they will defeat Sweden 2-1 or 3-1.
In addition, all Kiev is decorated with English flags, as fans sing national songs.
But Sweden's fans are just as enthusiastic! Their supporters have fun along the fan zone, painted in national colours in Viking helmets; they are making themselves feel at home!
They have even created their own place in Kiev: Swedish Corner where all Swedish fans gather before a match to sing songs.
Most Swedish fans wear football shirts with the surname of their favourite player - Zlatan Ibrahimovich. "He will show great skills," they say to us.
Also, Swedish supporters depend upon the accuracy of striker Ola Toivonen, the defensive skills of Olof Mellberg and fortitude of goalkeeper Andreas Issakson.
Swedish fans are having a great time, getting acquainted with Ukrainian and English people by taking photos with everyone who wants to cheer- but they still have some jokes with the other fans, saying things like: "We will defeat you!"
The English and Swedish footballers will worry, of course, ahead of such an important match. Especially for Sweden - it may even be their last chance.
After recent games of this group I really don't want to have a boring game!
We wish good luck to both England and Sweden and we are looking forward to a great match.