Euro 2012: Celebrating Andriy Shevchenko and Euro 2012!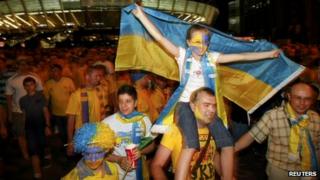 Have you ever heard the Ukrainian national anthem sung in the metro?
It happened on 11 June 2012, when the Ukrainian national team beat Sweden in Euro 2012 in Kiev!
Both teams were so strong and showed a real team game but they did not manage to score a goal in the first half, although there were some thrilling moments.
In the second half, Zlatan Ibrahimovic, who is a well-known star and player for AC Milan and Sweden, changed the flow of the game with the opening goal.
But fortunately for the Ukrainian team, Andriy Shevchenko - the team captain and probably the best striker that Ukraine has ever produced - evened the score and then scored a winning goal!
This game was a good start for Ukraine in Euro 2012. We can say that we had a lot of emotions and want to share them with you.
The atmosphere around the stadium was very friendly. People were wearing national flags and lots of different clothes in the national colours, while volunteers painted national symbols on the people's faces.
We also painted our faces with a flag and trident!
The Swedish supporters were warmly met by the Ukrainian people. We happened to meet a group of the Swedish fans and accompanied them by metro to the stadium.
The streets were full of joyful and happy people. We asked some groups whom they would support. Naturally, every nation was for their national teams, but all of them wanted to see a great game. And they have got it!
The overall number of the spectators was some 64,290 people. There were many children and young people, and of course a lot of foreign people.
A fan from Sweden that we interviewed said that he loves Ukraine and the people here. And a Turkish fan has some difficulties in the snack bar with our currency but luckily, we were at a hand. He was very happy to accept our help.
This game was an unprecedented event for all Ukrainians. Everybody was overwhelmed with their emotions.
Many thanks to BBC School Report and the British Council for giving us such an unforgettable day.