Euro 2012: Ukrainian students reflect on football's battle with racism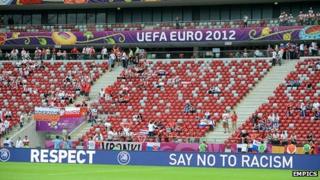 Racism and football. At first glance, they would seem to be totally incompatible with each other.
But unfortunately it's only at first glance. Judging by recent news, racism is a regrettable feature of the football world.
Unfortunately, footballers and fans are telling us about this problem more often than a few years ago. There are different types of racism, including against white-skinned people, but lots of recent stories have been about the racist abuse of black and Asian people and players.
The recent quotes from the black footballer Betao, who plays for Dynamo Kiev, about racism show us that people do face this problem in Ukraine.
The Brazilian-born player says that racism exists in Ukraine because of a lack of appropriate educational programmes about racial tolerance.
To demonstrate this, Betao recalled an incident which happened to him few years ago when a small boy in a supermarket pointed at him and said: "Look, granny! He has black skin!".
This incident painfully offended the player, but we are sure the boy wasn't racist and he said this only because of ignorance as it was the first time he had seen a person with black skin.
Before we have never thought much about this issue, because students at our school have a lot of friends around the world and we co-operate with them, email them and take part in joint projects: we never pay attention to the colour of their skin.
To talk honestly about incidents of racism at our football matches, we have heard - but never seen - its manifestation in real life.
A lot of publications claim that Ukraine is a country where racism takes place, but luckily - in our experience - it rarely appears.
We and our families are passionate about football. We support our football teams Dynamo Kiev and Shakhtar Donetsk, and, of course, we support our national football team.
There are a lot of players from different countries who play for Dynamo and Shakhtar. For us, it doesn't matter where they are from and what their roots are: they play for our teams so we love and support them.
Together with our families we attend football matches and have been lucky enough never to meet racist demonstrations.
Ukrainian fans get really angry with players who play badly, but it doesn't matter who this player is, Ukrainian or not.
We think that fans are people with their emotions and weaknesses. They go to football matches to relax or get adrenaline. They relax supporting their favourite teams, cheering, crying and whistling.
In general, we are a very friendly and hospitable nation; we are tolerant and respect other people. We hope that our generation will change the point of view on this problem and that it will not exist in our country.
It is embarrassing that such an awful phenomenon has a place in football, however, we believe that the sport will defeat it!
Of course it's not only a problem of football, but also of our society and all humanity!
We can and will overcome this horrible "ulcer". To reach this aim everyone has to start with themselves, has to clear his mind from wretched thoughts and ideas!
By doing this, mankind could enter a new society, free of prejudices and racism! So, our life and our happiness is in our hands, we need only start from ourselves…