Diamond Jubilee: Preparing to sing at St Paul's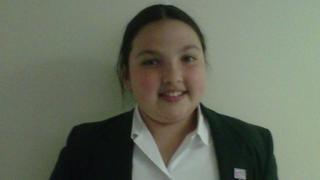 After more than 400 auditions around the UK, 41 young people have been chosen to be part of the Diamond Choir and sing for the Queen at the Service of Thanksgiving at St Paul's Cathedral.
The young singers will perform a specially composed song to celebrate her Diamond Jubilee and one of them will be Jess, a student at Southend High School for Girls in Essex. Before her big moment School Reporters Ola and Leila asked Jess a few questions:
How did you find out about this opportunity?
Well, I had an email through my choir - Southend Girls' Choir - and I was like yeah, sure let's do this!
What did you have to do to audition to sing in front of the Queen?
I had to sing two songs at the audition, but first of all you had to write a reason why you wanted to be in it. I didn't know this at the time but it was balloted, so I was quite lucky to get picked for an audition.
Why did you want to do it?
I thought it's an amazing opportunity and I think it's not going to happen again, especially in my lifetime.
Could anyone apply to be in the Diamond Choir?
There were two things that you had to have done or been in - you had to be in a choir already and be aged between 10-13 years old, boy or a girl.
How many people were selected to sing for the Queen?
Out of 400 auditions, 41 were chosen to sing from all over the country
Where did you have to audition?
I auditioned at St Edmundsbury Cathedral in Bury St Edmunds as it was closest to where I live, but they were held at cathedrals all over the country.
What do you have to wear?
I have to wear a white shirt, black trousers, black shoes and they give us a special tie.
Do you feel like you are prepared to sing for the Queen at St Paul's Cathedral on 5 June?
I think I'm pretty prepared, I am a little bit nervous especially about the words but I think it will all go successfully. I am really excited. It will be a great experience!