Diamond Jubilee: Sailing send-off fit for The Queen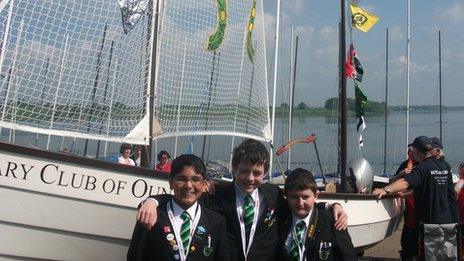 On 30 May, the Catmose College media team were invited once again to the Rutland Sailing Club, this time to document the official launch of the Wally Goldsmith boat for the Diamond Jubilee River Pageant.
Sam and I were ready to catch the whole launch event on film and capture some great moments that will definitely make it into the final documentary we creating about Rutland's contribution to the Queen's Diamond Jubilee Pageant.
Many people from local schools and organizations came to the momentous event that celebrated the start of the significant contribution Rutland is making to the Diamond Jubilee.
High Sheriff Bart Hellyer attended to give a speech on behalf of the Lord Lieutenant of Rutland, Laurence Howard, and to officially launch the boat with a bottle of champagne.
Following the High Sherriff, Martin Sutcliffe, Chairman of Rutland Sailability also gave a speech in which he thanked all the people who made the project possible. From the children making flags to generous clubs donating money, many were named - we were even thanked for our efforts in filming their progress!
Rutland Sailability, a club created to teach disabled people how to sail, have been chosen to provide Rutland's contribution to the pageant as in 2010 they were awarded Queen's Award for Voluntary Service.
After photos were taken, speeches were done and the boat had been covered in champagne (along with most of us!) it was lowered into Rutland Water, accompanied by huge applause.
We watched the official launch of the boat, The Wally Goldsmith, before it travels with the six man crew to London for the pageant.
The Sailability team boarded the boat and proudly took it for a few laps around Rutland Water, showing off the newly added flags and decorations - one of which is the insignia of the The Queen's Award for Voluntary Service.
Finally, after the celebrations, Sam and I also got aboard the Wally Goldsmith and went out on the water in order to get some shots of Normanton Church and the Rutland Belle for the opening of our film.
The day went extremely well and the footage we got was great, especially with the fantastic blue sky we had that day.
We hope it is the same for when the Wally Goldsmith joins all the other pageant boats on the Thames to celebrate the Diamond Jubilee!