Diamond Jubilee: School Reporters join an international party to celebrate Her Majesty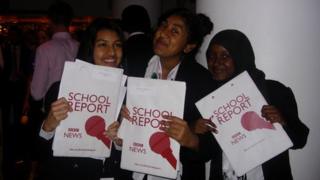 Three lucky School Reporters from Alperton Community School were on an exclusive guest list for a party at the Royal Commonwealth Society to mark the Diamond Jubilee.
They were alongside VIPs from around the world who were there to share their stories with the BBC World Service, which was broadcasting a special Diamond Jubilee programme from the event. Here is their story:
Situated in the heart of London is the Royal Commonwealth Society (RCS), where a reception to celebrate the Queen's Diamond Jubilee was held on Friday 1st June, and we were invited!
We didn't know much about the Commonwealth before, and so we were interested to find out what it was for, and how it was relevant to young people like us.
'A global family'
People connected to the RCS by their birthplace, profession or love of the Society were all invited, and we got to meet many of them.
We were really inspired to talk to Baroness Floella Benjamin, who told us that people have forgotten why the Commonwealth is so important.
She said that it links everyone together and we are very fortunate to be part of it.
Peter Luff, a former Director of the RCS, described the commonwealth as "a global family, with all different religions and backgrounds".
Godwyns Onwuchekwa, a Gay Rights activist from Nigeria, added "it's good to see 53 different countries being brought together in one place", and told us that everyone should be equal whatever their sexuality. We really liked his values and thought what he said was great.
So the Commonwealth is a global family, but what does it mean for young people?
We asked Francesca Temitope Danmole, Commonwealth Youth Caucus member for the UK.
She told us that even though lots of young people don't know about the Commonwealth, it has a Youth Council which creates lots of opportunities for young people to engage with each other and talk about ideas like peace and reconciliation and how to make the world a better place.
We also met Christopher Friend, who works for Sightsavers (formerly the Royal Commonwealth Society for the Blind) which works in Commonwealth countries on eye care, cataract surgery and helping blind people in society. He said that they have helped to restore the sight of 7.8 million people through cataract surgery.
Dahabo was so touched by his story that she presented him with a special School Report pin badge!
After talking to so many celebrities, we got to be celebrities ourselves as we spoke on BBC World Service's World Have Your Say programme.
We explained what we had learned about the Commonwealth countries being like a "global family".
It was an amazing opportunity and to speak to about 10 million people around the world was surreal!
After a lovely evening at the Royal Commonwealth Society, it seems that the Commonwealth still has an important role to play in bringing nations and people together.
It was clear to see that the Queen is seen as a mother figure for many people around the world, and the Commonwealth countries are like a big family who were really pleased to be able to celebrate the Queen's Diamond Jubilee together.