Any Questions?: School Reporters count down to live programme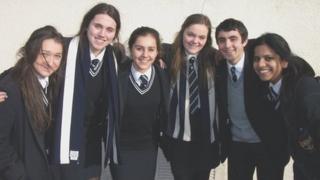 As the live broadcast of BBC Radio 4's Any Questions? fast approaches, we have been juggling GCSEs and preparing for our involvement in the production of the show.
Who says teenagers have it easy?
To prepare for tomorrow's show we have all undergone some training, run by Parliament Education.
This involved a breakdown of how Parliament works, analysing Prime Minister's Questions and researching topical issues in the local and wider press.
We wanted to get a feel for the show itself so we created our own "fantasy" panel show with some of us playing roles as diverse as Hugh Grant and David Cameron.
One boy in our class adopted the persona of a right-wing Russian ballet dancer which added a bit of humour to the debate to say the least! The unusual (and at times unidentifiable) accents also added to the humour.
We got to see just how difficult a job Jonathan Dimbleby will have on his hands by stepping into the shoes of a chairperson.
Steering the debate in a fair and logical manner and ensuring that panellists, especially politicians, or even worse, politicians in Northern Ireland, actually answer the question is a very difficult task!
Some of us are eager to pose a question to the panel on Friday night so we have also been learning about what makes for a good question and how to word it, so panellists: watch out!
We were also lucky enough to receive a questions and answers session with the producer of BBC's Hearts and Minds, Mary Kelly, who shared with us some of the behind the scenes information that goes into planning the show.
We learnt that it is not only the content of what the politicians say but also about their performance, which involves a lot of huffing, puffing and headshaking when they hear something that they don't agree with!
So if you're in the audience, prepare yourself for a drama tomorrow night!
Panellists are now confirmed as Mike Nesbitt, John O'Dowd, Deidre Heenan and Nigel Dodds.
With a panel like that it is sure to be a heated debate! The news this week has given them plenty of fodder so we are just excited to see it all take place live.
We are all very much looking forward to welcoming our guests, selecting the questions with the production team, escorting our panel and interviewing Jonathan Dimbleby.
It should be a brilliant day!
Watch this space for updates tomorrow...