Diamond Jubilee: School Reporters show off their royal reporting skills!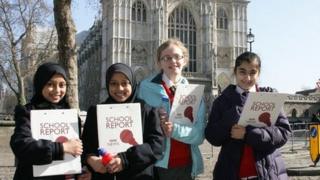 As the UK celebrates the Diamond Jubilee, schools from across the UK have been reporting on the Queen's reign in all sorts of ways.
School Reporters have attended some momentous events and interviewed some of those involved as well as even having the opportunity to see the Queen herself!
Pupils from Ponteland Community Middle School travelled from Newcastle to London to report on Commonwealth Observance Day.
Once they arrived at Westminster Abbey, they got the chance to speak to many of the flagbearers from different nations as well as famous faces including singer Rufus Wainwright and Lord Howell.
You can hear those interviews alongside pictures of the day in an audio slideshow as well as reading Amaani, Hannah, Fatima and Amber's personal account of attending the occasion.
Eight students from King Edwards School were also lucky enough to be exclusive guests on the day.
As well as getting involved with celebrating the commonwealth, they also got the opportunity to put their own contributions into a time capsule to mark this Jubilee year. School Reporter Sam explains what happened when King's met the Queen.
As part of the 1,000 students from around the UK to be invited to this once in a lifetime experience, Finn and Francis from St Benedict's School in London describe how it felt to be rubbing noses with royalty in Westminster.
Molly and Alice from St Ambrose Barlow RC High School report on the excitement surrounding the Queen's visit to Media City UK where she launched a special Sport Relief run completed by BBC staff.
More photos of her Majesty's trip to Salford are available online as well as an explanation of her UK tour put together by Imberhorne School as part of their news day.
But being among royalty is not the only way to prepare for the Jubilee as students from Catmose College prove. They've been working hard within the community helping to clean up a park in Oakham ahead of this weekend's celebrations. See their efforts in pictures here.
Catmose students have also been behind the scenes to see the preparations being made for the Diamond Jubilee Pageant.
Meanwhile, students at Rainham High School for Girls interviewed their teacher about how the school will be celebrating, pupils from Cox Green School have created their own podcast to report on the Jubilee.
Ross, Caitlyn, Ryan and Claire from Carluke High School give us their report explaining why we celebrate the Jubilee and how it will be marked in 2012.
Reporters Amy, Tomilola and Alexandera from William Farr Comprehensive School have been out on the street to uncover the general public's view on the Diamond Jubilee.
Cara from St George's Church of England Foundation School gives an overview of all the different events taking place across the weekend and Ulverston Victoria High School report on Prince Harry's tribute as well as one of the biggest festivities taking place, the BBC Jubilee concert with a fantastic line up of live acts performing.