Any Questions?: School Reporters win debate competition to host Radio 4 programme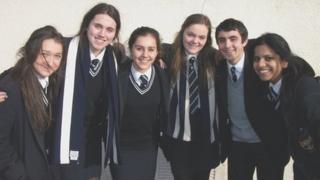 When our teacher first announced another talking and listening task, there was a very distinctive groan, one of which can only be created by a class full of teenagers dreading the thought of actual work!
We separated into groups and did what, let's face it, most of us do whenever we have to discuss an important issue: talk about anything other than the issue in question, that is until your teacher passes and you pretend you've been talking about it the entire time!
This issue, however, was perhaps more interesting than most. The topic of striking or more specifically, teachers striking, really got every student motivated.
There was no need for us to play certain characters particularly affected by the issue; as students we were all involved. This made it immediately more interesting for us to deliver an authentic debate.
The timing could not be more perfect; just as our class really responded to the issue, the Schools Questions And Answers competition was announced and our teacher, Mrs Cooney, could not resist entering us.
The "willing" volunteers were chosen to argue the topic "Protesting Can Work" with Ellie and Rosie as the proposition and Rory and Ashly as the opposition. I took the role of chairperson.
This new pressure made us buckle down and really consider the issue on a higher level.
On the day of the filming the whole class shared their viewpoints as we felt this was the best way to get everyone's opinion across and not just those of the students who would be filmed debating the topic.
One of our most important aims was to make sure the debate was spontaneous and not rehearsed, in other words, we wanted only one take.
We had a simple but effective structure wherein both the proposition and opposition were able to argue their points and question each other.
We also had a fellow student, Rebecca, ask a question to the debaters, mimicking the style of the BBC's Question Time programme. This kept the debate moving and there was never a lack of things to say. Instead, our problem was trying to stay within the five-minute time boundary!
I looked over at the timer to see just 10 seconds left and the opposition still talking. Then without a second to spare I heard silence and concluded the debate.
An uproar to match our initial groan, now full of laughter and applause as the stop button was pressed and we had completed the debate in one take!
It felt rather unusual returning to "normal class" after working for the debate. However we were very aware that this was a UK-wide competition so when results day came, while full of anticipation, we were also realistic in our expectations.
When Mrs Cooney announced we were one of the six winners we were elated!
At this point we had no idea what the prize included but that didn't matter; what made this moment so rewarding was that all the hard work we had put into a subject we all really enjoyed had paid off!
That being said, the prize is something we could never have imagined...
Standing where I am now, in a hall I've walked through for the past five years, the atmosphere has never felt so different. Methodist College's Whitla Hall is bustling with last-minute preparations being made by very busy people; you can feel the excitement in the room.
From the hard work put it by the whole class and the hours spent being a part of the preparation process, seeing how everything works behind the scenes on favourite shows such as 'Any Questions?' to waiting for one of the most influential broadcasters in the UK to walk in.
This has been a very rewarding year for our English class and not one we will forget any time soon.