London 2012: School Reporters meet Paralympic Torchbearers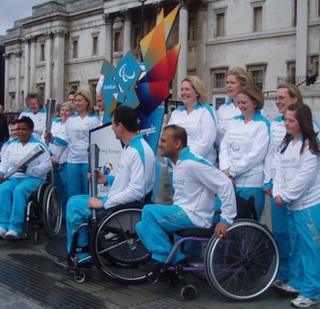 It's just over a hundred days until the 2012 Paralympic Games begin and we went to Trafalgar Square to report on a special Paralympic torch announcement as some of the Torchbearers were named.
We waited for 15 minutes in Trafalgar Square whilst photos were taken with some of the Paralympic Torchbearers. They were having photos taken in front of the Paralympic Torch billboard and with the torch.
There was media from all around the world and everybody was excited, taking pictures and there were lots of tourists. Then we interviewed some people that are going to be part of the Paralympics, including Torchbearers and Lisa who is the manager of the Paralympic Torch Relay.
She explained how four flames will be lit in the capital cities of England, Wales, Scotland and Northern Ireland. In England it will be in Trafalgar Square where we were standing. But she wouldn't tell us how they are going to be lit - it's still secret!
While we were waiting we saw the blue 2012 mascot, Mandeville. He was giving hugs and high-fives to little children.
Then Prolet and Aura-Fay spoke to some of the Torchbearers who were all nominated to be part of the relay team. They were all picked for different reasons.
Sharon Jones-Barnes, who plays international badminton and was picked because she helps coach disabled children in Hackney, said she was "absolutely proud" to be picked and Sue Williams who is an artist told us about how her boss had nominated her.
She said: "it's quite amazing; it will be a real honour to carry the flame. I knew I was nominated but I didn't think I'd get through so it is really amazing!"
Sue also told us she is looking forward to the Paralympic Games being in London as it gives disabled people an opportunity to be in the spotlight and compete".
We asked Sue about how she will be preparing to be a Torchbearer. She said: "I'm an artist not a sportsperson so I think I'll probably be holding heavy things as my training so my arm doesn't hurt!".
Claire Hamilton who works for a theatre arts charity said she was very excited to be involved in the Paralympic Games, especially as she is going to be in the opening ceremony as well as carrying the torch. She said: "it is a once in lifetime opportunity and I can't wait!"
One of the torchbearers is so excited he even got his mum to come along so we interviewed her too. She said all their family was very proud of him and told us that his sister nominated him to be a Torchbearer as he inspires her.
Elma and Gavin also spoke to Chris Holmes, Director of London 2012 Paralympic Integration and former Paralympic athlete.
He is hoping that London 2012 will be the greatest Paralympic Games ever and hopes afterwards they will "drive fundamental positive change in attitudes towards and opportunities for disabled people".
Elma told him about how our school uses the Olympic values and he told us the Paralympic values are: determination, inspiration, courage and equality.
After all our interviews we got to hold the Paralympic torch ourselves and it was AMAZING!
Elma described it: it has a nice grip, very light; it has loads of holes for the light to come through and has a unique shape to it.
In an earlier interview with one of the Paralympic Torch Relay Managers Gavin found out that it is one of the lightest torches ever to be made and it has a reflective finish so it reflects everything that is going on and changes colour in the light.
So he was particularly proud to get his hands on it: "I felt like a king when I had it and it was really special as I know lots of people are going to be holding it before the Paralympic Games!"
It was very exciting to meet with the people who are going to be part of the Paralympic Games and Torch Relay.
And we were so excited to hold the torch ourselves. It looked amazing.
We all were nervous to do the interviews to start with but have learnt lots about being a reporter: to talk loudly and clearly and to do your research and know a lot about the Games!
Overall it was an inspiring day for The Lammas School Reporters. We all learnt lots about the Paralympics and will be looking out for the torch when it comes near us in Stratford in August - it will be a memorable day to remember forever.