London 2012: Ideas for reporting the Olympic torch relay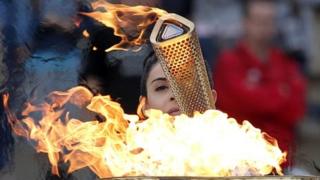 The Olympic torch is coming near you very soon and School Reporters can be at the heart of telling this fabulous story.
The torch relay began on Saturday 19 May in Land's End in Cornwall, and will pass through 1,018 places, including Dublin, on its 70-day journey to the opening ceremony of the Olympic Games on 27 July.
Check out the BBC's torch relay website at www.bbc.co.uk/torchrelay and watch live video of the torch, get full details of the route and find out more on what it's all about.
So how can you, your school and young reporters get involved?
And remember - it doesn't have to be a big blockbuster of a video package. Think BIG and LITTLE. A single photo of the torch or a torchbearer is just as effective.
RESEARCH - PLAN OF ATTACK
Watch this BBC News video on the torch relay, the youngest and oldest torch bearers and where the torch will be visiting in the UK.
There are lots of ways of covering a story, but a great starting point is read about the subject, learn about the torch's history, understand its importance and context, and crucially discuss what about it makes YOU excited.
Everybody will have their own views. Discuss and share your opinions - in pairs or in large groups - and come up with different angles and methods on how you might report the torch relay story.
IDEAS - SOURCE OF INSPIRATION
You may well have ideas of your own already. In case you haven't or want to expand your own thoughts, here is a list to help inspire you. It's not compulsory to use any of them!
Create something from the perspective of the torch itself. For example, using a camera to film an item from the torch's eye-view and show what the torch might be looking at on its journey!
Dig for amazing stories on people who have connections with the torch. Perhaps someone at the school is a torch bearer or a friend is, or they know a mate who helped design the torch, or their mum's hairdresser is making lunch for the motorbike rider carrying the torch on the Isle of Man. Be creative. Think outside the box. Or the torch!
Produce a video/audio/written diary and tell your own story of how the torch is affecting you, your school and community.
Act as a newsgathering team and interview pupils from schools that are to be visited next on the touch relay route.
Get snappy. Take a photo or series of pictures of the torch and its places of visit and School Report wil create a gallery
DELIVERING - FINAL PRODUCT
Your reporters may want to write a story, interview someone and produce an audio item like a broadcaster would do for radio, or create a video package that could go on TV or a website.
It can be anything from an indepth report, to one simple photograph taken of the torch or the community it's visiting. It all depends on your resources, time and passions within your team.
Like your stats? Olympic torch relay lesson plan: This is designed to help students obtain, interpret and report statistics and also shows how to turn surveys and numbers into news stories.
School Report's email address at schoolreport@bbc.co.uk should be used to send in your photos and to let us know when your content is live on your school website.
These are just a few of the many ways the audience can consume news content. We live in a world of multi-media. The choice is yours.
HELP - TOP TIPS FOR PRODUCTION
Our six lessons might help with the final production of your content:
Lesson 1: What makes a good news story, where to find news and why the audience is important
Lesson 2: How to gather news and the art of good interviews
Lesson 3: The art of writing news stories
Lesson 4: How to broadcast your story, the art of presentation and how to share your news safely with a worldwide audience
Lesson 5: Researching 2012-related events and planning reports
Lesson 6: Delivering stories and performing under pressure to deadlines
One last lesson idea is from our pick and mix resources page.
This contains videos, guides and quizzes about broadcasting, sharing news and more tips on producing video, written web content and news stories.
The torch relay last for 70 days but that's not an excuse to relax for a month. The sooner you and your pupils discuss the project the better.
From gathering ideas to delivering the content can take time. But above all - enjoy the journey! Yours and the torch's.
And remember, the BBC's torch relay website at www.bbc.co.uk/torchrelay is the perfect place to keep across everything, watch the torch's journey continuously and get full details of the route and much more.