London 2012: Prince Harry becomes School Games president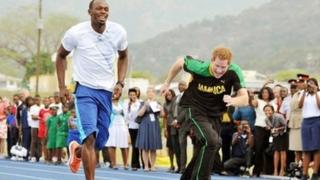 Prince Harry has been named as the official president for the School Games, a prestigious multi-sport event for young people.
The 2012 School Games was held from 6-9 May and featured 12 Olympic and Paralympic sports, with the final day of the event taking place at the Olympic Park.
"Huge congratulations to everyone who has taken part in the inaugural School Games, but especially to those who have won," said Prince Harry.
"I believe that sport can give people confidence and skills which set you up for life. It is so important to get outside and to keep physically and mentally fit. I am very honoured to become the president of the School Games."
BBC Radio 5 live Olympics reporter Gordon Farquhar told BBC News School Report that "Prince Harry is well known in the world of sport and is good to promote the School Games".
It was also interesting to get the views of a younger member of the media team at the School Games.
"It is fantastic to have someone of Prince Harry's stature involved in the School Games," said Glenn, a member of the School Games Youth Media Team.
Jeremy Hunt, Secretary of State for Culture, Olympics, Media and Sport added in a press release: "I am thrilled that Prince Harry has agreed to become president of the School Games.
"He is a great sportsman in his own right and I'm sure his support and enthusiasm will be a massive inspiration to all the young people who take part in every stage of the School Games."