London 2012: Rising star ready for School Games stage
8 May 2012

From the section

Home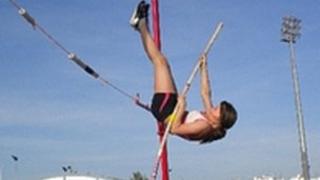 One of the hundreds of elite school-age athletes competing at the Olympic Park in the School Games is Ailis McGovern.
Remember the name. This 14-year-old star is from Chislehurst & Sidcup Grammar School and was crowned the south of England U15 pole vault champion last year.
School Reporters: Hello Ailis. We've been told you're competing for south-east England in the School Games. How do you feel?
Ailis: I'm very excited about it as I'll be able to compete in the Olympic Stadium and I'll be with other competitors from places like Scotland and Wales.
SR: What sport are you doing?
Ailis: I'm competing in pole vaulting.
SR: Are you looking forward to it?
Ailis: Yes, I'm extremely looking forward to it as I will be in the Olympic stadium and I'll be using the same facilities as athletes from around the world will be using at the Olympic Games in the summer.
SR: How much do you train?
Ailis: I train around four to five times a week, with Sundays being my competition days and Friday being my day off.
SR: How did you first get involved in pole vaulting?
Ailis: I was down at my local athletics club, which is Bexley Athletics. I was just doing some running and my coach, who I still work with today, was training some other people and I liked the look of it and so I thought I'd get into it. I've stuck with it ever since.
SR: Who is your idol?
Ailis: Another British pole vaulter called Holly Bleasdale - she is my idol as she's only been doing this for four years. She's been doing really well and has also qualified for the Olympics this year.
SR: How do you juggle school work and training?
Ailis: It is hard, because I train so much and I often go to far away places like Lee Valley for training. I take my homework and revision with me - I basically do it on the way there and on the way back.
SR: Thank you for your time and we wish you the best of luck in all your endeavours.
Ailis: Thank you.
Ailis will be competing in the Olympic Stadium from 0930 BST on Wednesday in the girls' pole vault competition.