London 2012: School Games set to continue 2012 build-up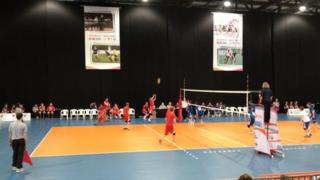 Hundreds of elite school-age athletes are being given the chance to compete at the Olympic Park in the 2012 School Games, which open on 6 May.
About 30,000 spectators will attend, with 1,600 young athletes competing in some of the venues where stars like Usain Bolt and Sir Chris Hoy will appear during the Olympic Games.
The School Games culminates in the Olympic Park on 9 May and is the final event to be staged there before the opening ceremony of the Olympics on 27 July.
Competition begins on Monday. The 12 current and future Olympic and Paralympic sports to feature are athletics, swimming, cycling, fencing, rugby sevens, gymnastics, hockey, badminton, judo, table tennis, volleyball and wheelchair basketball.
In addition to the athletes themselves, the School Games will see young people involved as volunteers and reporters.
BBC News School Report, the journalism project for 11-16-year-olds in the UK, is covering the School Games with young journalists behind the scenes and in the crowd reporting on their experiences and the latest sporting action.
"Young people are being given an exciting opportunity to use the facilities and the competition will even mirror the format of the Games themselves, complete with opening and closing ceremonies," said School Reporters Brooke, Charlotte, Ben and Matt from The Coleshill School in Birmingham in an article for School Report.
"We just can't wait to get out there and show everyone what we can do!"
Other BBC outlets, including BBC Breakfast, the News Channel and BBC Radio 5 live will also be at the park on 9 May.
About 700 volunteers, most of them young people, will be on hand to help run the whole event.
Former Great Britain Olympians including heptathlete Denise Lewis, sprinters Darren Campbell and Jason Gardener and badminton player Gail Emms are expected to be in attendance at the Olympic Park as ambassadors.
The closing ceremony in the Basketball Arena will feature former Britain's got Talent winners Spelbound and band Cover Drive.
Secretary of State for Culture, Olympics, Media and Sport Jeremy Hunt said: "All the young people competing in the School Games have worked incredibly hard to get here.
"I congratulate them all in getting this far and wish them the best of luck. I hope they have a fantastic time and leave with some great memories."
The Youth Sport Trust has been commissioned by Sport England to deliver the Games, with competition taking place in the rest of the year, building up to the showpiece occasion at the Olympic Park.
Chief executive John Steele said: "The 2012 School Games is a very special sporting occasion for young people in this incredible year for British sport.
"We hope that all those taking part in the Games will come away from the event with memories that will last with them forever."