Olympic torch relay: Day 55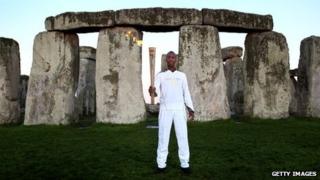 Thursday sees the torch relay travel from Salisbury to Weymouth, with the start of the Olympic Games drawing ever closer.
School Reporters throughout the UK have been reporting on the torch's journey, the Games and other 2012-related stories for some time now, and students at Shaftesbury School in Dorset are among them.
Students have been looking into how the National Fruit-full Schools Project is related to the Olympics.
School Reporters, joined by fellow pupils in the school's Aspiration team, learned about the intention to turn an unwanted, overgrown and unused space into a "beautiful garden and orchard".
The team aims to design an Olympic garden to benefit students, by "giving them a place to hang out and… look through the gardens". School Reporters concluded that it will be a place to "reflect" the Olympics and as a sports college it abides by the "school's morals".
School Report has been working with Horrible Histories author Terry Deary - who carried the torch himself earlier in the torch's travels - to tell some of the historical nastiness that has gone on in some of the places that will welcome the torch.
Today it's the turn of Weymouth, which will host the Olympic sailing events in a few weeks' time, to get the Horrible Histories treatment from Terry.
Horrible Histories of the torch relay: Weymouth
Dorset is famous for having a pretty coastline and this summer, the county will see sailors from around the world flock to the town as they take part in the Olympic sailing events.
But in 1348, the sea brought a far less welcome visitor to Weymouth.
Watch as Horrible Histories author Terry Deary explains what happened during that wretched year...
School Report Relay videos
Which school on the Torch Relay route has the most Olympic spirit? To celebrate the Olympic Torch relay, School Report are after your 'Keep on running' videos.
Check out the stunning efforts from School Reporters at Sarah Bonnell School, William Brookes School, Cape Cornwall School, Parkside Sports College and Cardinal Newman Catholic School, and ask yourselves what makes your school special?
Are you the highest, windiest, oldest or noisiest school on the route?
Get your thinking caps on, and get your videos in to us as soon as you can!
Don't forget...
The BBC's torch relay website at www.bbc.co.uk/torchrelay is the perfect place to keep across everything, watch the torch's journey continuously and get full details of the route.
For tips on reporting the Olympic torch relay, visit our special learning resource for some advice on how to cover it when it comes to your area.