Olympic torch relay: Day 52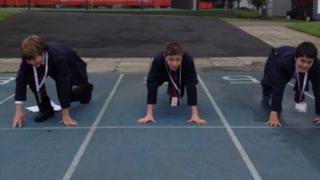 Monday sees the torch relay travel from Luton to Oxford, and School Reporters from Dr Challoner's Grammar School are out and about to report on its arrival at Stoke Mandeville Stadium, along with 1500 other local school children.
We have already started to hear from their reporting team, who have been sending in photos from the stadium as they await the torch's arrival.
The School Reporters have been speaking to some local primary school pupils about the day.
"I'm really looking forward to it because it's a once in a lifetime opportunity," said one interviewee, while another added: "I like the mascot because he's got a big eye and is funny!"
The Scool Reporters have also been interviewed live on the Nick Coffer Show on BBC Radio Three Counties, with reporter Simon Watts describing the scene before handing the microphone to the pupils
"It's great because you've got all the schoolchildren shouting and screaming and waving their flags - all the different noises coming together," said Jamie.
"It's given us an insight into journalism that would be difficult to get anywhere else."
The reporting team are also going to interview members of the ParalympicsGB wheelchair basketball team and Jamie also explained some of the questions theu had been working on.
Michael added: "It's been a great day: even though the weather isn't the best, everybody is smiling."
And Paddy just got time to tell everyone how much he's looking forward to the forthcoming sumemr holidays!
Meanwhile, some schools along the route have already been reporting on Olympic-related stories and this is a great chance for us to showcase their work!
And the inimitable Terry Deary, author of the Horrible Histories series of books, has also been working with School Report to tell some of the grizzly tales of places along the torch route - today it's Oxford's turn to take a place in the "horrible" spotlight!
2012 reporting
Sabrina from Barnfield West Academy in Luton competes in athletics and hopes to make it to the 2016 Olympic Games.
She told BBC School Reporters that she was inspired by the 2008 Games and also by Great Britain's double gold medallist Kelly Holmes' performance in 2004.
She said that with thorough training she'll be ready by 2016 and have plenty to offer as she'll "only be 20 and hopefully still quite fresh".
Oakgrove School in Milton Keynes produced their very own sports segment during their news day.
It featured a specific focus on the upcoming Olympic events, with reporter Jess analysing how the Olympics could either boost or worsen the UK economy. Ellie and Elisabeth reported on the 2012 hopefuls in both the Olympic and Paralympic sporting events.
"Horrible Histories": King Charles loses his head in Oxford
The Olympic torch relay reaches Oxford on day 52 of its 70-day journey around the UK.
First inhabited in Saxon times, Oxford was originally known as "Oxenaforda", which means "Ford of the Oxen"... but oxen weren't the only residents of the city.
King Charles sought refuge there in 1642 after being expelled from London, but as "Horrible Histories" author Terry Deary explains, this was one visitor without a royal invite.
School Report relay videos
Which school on the Torch relay route has the most Olympic spirit? To celebrate the Olympic Torch relay, School Report are after your 'Keep on running' videos.
Check out the stunning efforts from School Reporters at Sarah Bonnell School, William Brookes School, Cape Cornwall School, Parkside Sports College and Cardinal Newman Catholic School, and ask yourselves what makes your school special?
Are you the highest, windiest, oldest or noisiest school on the route?
Get your thinking caps on, and get your videos in to us as soon as you can!
Don't forget...
The BBC's torch relay website at www.bbc.co.uk/torchrelay is the perfect place to keep across everything, watch the torch's journey continuously and get full details of the route.
For tips on reporting the Olympic torch relay, visit our special learning resource for some advice on how to cover it when it comes to your area.