Olympic torch relay: Day 47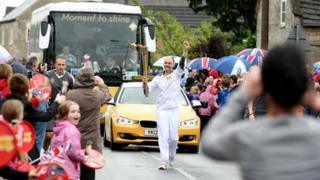 Wednesday sees the Olympic torch continue its journey from Peterborough to Norwich, and School Reporters are planning to report on the day and the people carrying the torch.
School Reporters Mimi and Sarah from Diss High School will go along to see sixth-former Sarah Mcgahan carry the torch in Norwich today and will report on the experience!
The route will also take in Lincolnshire and one School Reporter in the county has already been looking at the local people who were nominated to be torchbearers.
Rebecca, from Sir John Gleed School created an article to illustrate how Lincolnshire is involved in the Olympic torch relay and the Games itself. It is estimated that more than 50 people from Lincolnshire had the honour to be on the shortlist to carry the torch.
What's more, an artist named Carol Parker from Lincolnshire has knitted a "200m running track out of wool" which could be displayed in the Olympic 2012 village.
Torchbearers on today's route include javelin thrower Goldie Sayers, a veteran of the Beijing Olympics, who spoke with some very switched-on School Reporters at the airport!
'Once in a lifetime chance'
School Reporters Sarah and Mimi were in Norwich to see the torch arrive in the city.
Mimi said: "It was great to see everyone supporting the Olympics and coming together as a community and as a country. Lots of people were cheering on the runner with the torch and having a fun time!"
Sarah said: "The atmosphere was great, everyone was really excited and enthusiastic- it was definitely a once in a lifetime chance to see the torch".
Sarah and Mimi were also able to write a report about former student Sarah, who was chosen to carry the torch.
Keep on running!
Which school on the Torch Relay route has the most Olympic spirit? To celebrate the Olympic Torch relay, School Report are after your 'Keep on running' videos.
Are you the highest, windiest, oldest or noisiest school on the route?
Get your thinking caps on, and get your videos in to us as soon as you can!
Don't forget...
The BBC's torch relay website at www.bbc.co.uk/torchrelay is the perfect place to keep across everything, watch the torch's journey continuously and get full details of the route.
For tips on reporting the Olympic torch relay, visit our special learning resource for some advice on how to cover it when it comes to your area.